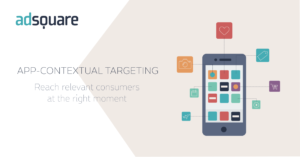 Mobile-first data exchange Adsquare has announced the addition of real-time contextual data to its offering, enabling advertisers to target on the basis of apps used, as well as providing a more secure, brand-safe environment for mobile campaigns.
The addition of contextual data is aimed at giving advertisers and brands a unique opportunity for more specific and effective targeting, with the solution designed to complement Adsquare's existing product portfolio.
Leading contextual data companies including Grapeshot, Priori Data and 42Matter have all be integrated into the solution, enabling Adsquare clients to select their preferred partner through the firm's self-service Audience Management Platform and activate it on their programmatic buying platform.
Combining the real-time app data with geo-contextual targeting will enable clients to target based on both mobile usage and real-world behaviour, for example reaching World Cup fans when they are at stadiums or public viewing spots, or when they are consuming football-related content on the mobile.
"Targeting the current app context of a mobile user enables advertisers to reach consumers in the most relevant moment and is a perfect addition to targeting the local context of users," said Tom Laband, CEO and co-founder of Adsquare. "The new solution completes our holistic view of a user and can be used to extend the reach of campaigns targeting users' moments."
As targeting the context of an app is not based on any personal data, the new solution also aims to compensate for any temporary decrease in reach that advertisers may have seen as a result of GDPR.
"Targeting the context of apps does not require any personal data and can be applied under GDPR without limitations," added Laband. "For our clients, it is the perfect solution to extend their existing reach."
Source: Mobile Marketing Magazine