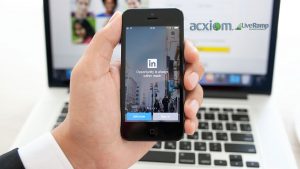 Acxiom, the data foundation for the world's best marketers, announced a product integration that will enhance people-based targeting on LinkedIn using a privacy-compliant match between Acxiom and LinkedIn audiences. Marketers will now have access to improved audience targeting and Acxiom's LiveRamp Connect, creating unique opportunities to run secure, anonymized people-based marketing campaigns on LinkedIn.
"With more than 500 million users globally, LinkedIn operates the world's largest professional network on the Internet, and we're excited to unlock the potential that this relationship will have on the marketing industry," said Anne Doherty, SVP Sales, Acxiom. "Our product integration with LinkedIn allows marketers to seamlessly connect customer data to this top-tier platform, complementing the powerful targeting elements LinkedIn already provides advertisers."
Based on more than 45 years of history with major brands, Acxiom has developed complex and precise third-party data sets for use in the digital ecosystem. This new integration enables marketers to expertly build, size, segment, and reach these custom audiences on LinkedIn. Through LiveRamp Connect, marketers will have end-to-end control of the data onboarding and distribution process as well as real-time visibility into uploads and activations against LinkedIn.
With more than 50 percent of online visitors accessing LinkedIn via mobile, LinkedIn is a premium platform for B2B advertisers. As a result of the product integration with Acxiom, marketers will have the ability to connect their audience segments to LinkedIn, making it possible to create highly accurate, customized campaigns that move the needle for their business and consumers.
Source: Acxiom