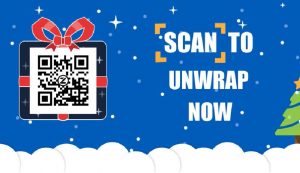 Mobile payments firm Zapper says its 'Zap to Unwrap' Christmas promotion is proving a hit with convenience store retailers and their customers in the run-up to Christmas.
After shoppers have paid with Zapper they are given the chance to quickly scan a bonus QR code which generates a random prize. This could be anything from thousands of instant vouchers or an entry into a top prize draw which includes; Nintendo Switches, Go Pros and a 65-inch TV.
Jamie Keshwara, store owner at Kescho said: "It's a busy time of year however Zapper's Zap to Unwrap Christmas game has provided a great deal of engagement in store and the customers love the chance to win extra rewards."
And Imran Latif, manager at Nisa local in Splott, said his regular customers are loving the surprise Christmas giveaway from Zapper every time they pay for their shopping. "Zapper has really helped community stores like ours get to know our customers even better and reward their local loyalty," he said.
The promotion is available in over 1,000 convenience retail stores including Spar, Nisa, Premier, Londis, Family Shopper, Best-One and Costcutter across the UK. Shoppers simply open the app, scan the QR code on the digital display at the till to pay quickly and securely using their mobile. The payment process also tops up their digital store loyalty card and redeems any available vouchers.
Zapper's Zap to Unwrap Christmas giveaway ends in store on Wednesday 27 December and the TV will be awarded to one lucky winner before 31 December.
Source: Mobile Marketing Magazine