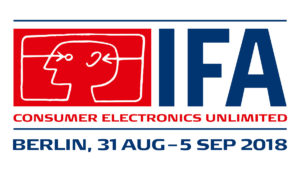 I've been coming to IFA for many years and as a self-confessed gadget addict it's like being a kid in a sweet shop. But like deciding which sweets to buy all those years ago, it's a bit overwhelming and disappointing if you don't choose wisely and suffer from buyers' remorse! So, here's my take on what consumers should look out for and how can marketers and retailers can prepare themselves for what innovations are coming next.
This year IFA was very comfortable in its own skin. Its confidence bolstered by the fact that Europe is a big market and like it or not, the UK whilst important does not set the agenda – so we didn't see Brexit significantly impact the conversation. But what we do have to be aware of is that there are new, more stringent energy efficiency ratings for Major Domestic Appliance's being implemented by the EU in 2019, that if not adopted in the UK could mean consumers are being sold products which are less energy efficient and environmentally friendly. It's either going to be easier or more difficult for brands to distribute in the UK, a sad day for British consumers who are low on the list for renewable energies and could potentially have appliances that are uncategorised.
Over the last four years as smart technologies evolved from infancy to real life products and applications, brands are feeling excited and confident about the future and not surprisingly and as predicted last year the voice assistant is driving the conversation. There are still only really two major players, Amazon Alexa and Google Assistant. And as you walked into IFA 2018 it was awash with Google branding, experiential and staff across the event on every third party stand with Google Assistant enabled products taking a lead compared to Amazon with Alexa.
And most of the innovation on show is about the connected home via voice control, from washing machines with Hoover Candy and Beko through to smart speakers, thermostats, lighting and TVs. Infact, AI assistants are being integrated into pretty much everything you can imagine. But as I've said all along and continue to maintain, a smart kettle needs a human to fill it with water and pour said water, a smart washing machine needs someone to put the garments in and take them out…..need I go on?
Every brand had a big bold stand with beautiful products, displayed to meet the exacting expectations of the tech savvy consumer however there's nothing really ground breaking. For brands operating in crowded categories, it's difficult to gain cut through in all the noise. The mistake some brands have made is to overcompensate for no news by regurgitating the old to the disappointment of visitors. Sometimes a brand can gain more credibility by playing it cool like Samsung, Sony and LG.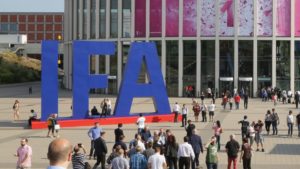 Those who have something new to scream about are making themselves hoarse doing so but to great effect in some cases. Would B&O have received the media coverage it did for the Beosound Edge? Unlikely when you consider its £2900 price tag, not your average mainstream product. A close second is 8K TVs which are coming to market soon from LG with no firm launch date and from Samsung in September. However, the only problem with this is that no one is currently broadcasting in 8K, studios aren't producing on mass in 8K and it's going to be prohibitively expensive. The first mainstream broadcast in 8k is likely to be from Japanese broadcaster NHK for the Tokyo Olympics in 2022.
As Rory Cellan-Jones, BBC Technology Correspondent, suggested, "is it just another gimmick to sell us more TVs especially when only four years ago we were being told 4K was cutting edge."
I agree but as marketers our job is to sell the boundaries of possibilities to consumers. New products like these benefit the industry and rejuvenate categories. And of course, there was the ridiculous. The Candy Millennial Pink Edition washing machine, a season too late, raised a laugh at the press conference in being ridiculed by a senior executive, although perhaps the real message was lost in translation. It does though provide a lesson on trends and press announcements. Brands should be aware of not desperately trying to create headlines with new colour variations of their products taking the place of real innovation.
One clear message I've translated from many brands is the lack of consideration for the customer journey. They have been so wrapped up in 'bigging' up the product launch, gaining distribution through retailer listings and advertising that the customer journey, the only true measure of the effectiveness ATL achieves, is left until last and is almost an afterthought.
Brands need to spend more time considering the customer journey and if they invest even 10% of the ATL budget, I know it will exponentially increase sales in retail where over 80% of considered purchases in the consumer electronics category happen. There's a higher expectation from consumers than ever and technology brands need to nail it to succeed in crowded categories, so let's make sure we listen to what they need, rather than just giving them what we want.
Article by Dan Todaro, Managing Director of Gekko.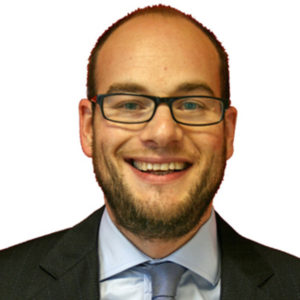 About Dan:
Daniel formed Gekko in April 2002 and, over a decade on, it has grown to become one of the UK's leading field marketing and experiential agencies providing results-driven solutions to technology and leisure brands. Whilst FMCG has been the traditional domain of the field marketing and impulse purchases, Gekko has carved out an impressive niche in a sector dominated by considered purchases.
Through understanding great customer experience to motivate distinct shopper tribes, Gekko converts shoppers into customers of brands which include Acer, Samsung, Toshiba, Epson, Apple, Fitbit, and Freeview. Daniel is a regular industry commentator in his capacity and experience as a business leader, tech champion and in brand marketing.
Source: Gekko