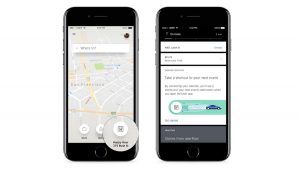 Uber has introduced a new feature that syncs with your calendar to easily add the addresses of any meetings or appointments as an intended destination on the its app.
The Calendar Shortcuts feature will provide the user with a 'shortcut' to the address, at the bottom of the screen, when opening the Uber app. The feature intends to save the user time in having to find the address and then enter it into the app.
In a post, Miraj Rahematpura says: "With Calendar Shortcuts, Uber can assist with your planning. After all, we designed the new rider app around you—and our core beliefs that time is a luxury and that the information you need should always be at your fingertips. Whether it's a flight out of town, meeting across the city, or dinner reservation with friends, it's now one tap to get moving!"
The feature is currently only available on iOS but Uber intends to bring it to Android soon. The calendar can be connected to Uber through Settings > Calendar Events or via a card in the Uber feed.
Source: Mobile Marketing Magazine