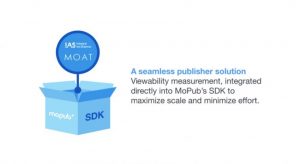 Twitter's MoPub mobile ad exchange incorporated viewability measurement support from independent measurement providers Integral Ad Science (IAS) and Moat into its updated software-development kit.
Application publishers on the MoPub exchange will now be able to offer in-app inventory that is measurable for viewability.
MoPub head of commercial partnerships Meridith Miller said in a blog post that the measurement SDKs of IAS and Moat were incorporated into MoPub's SDK, giving the more than 49,000 apps on the MoPub exchange access to their viewability measurement.
Miller added that publishers seeking to enable viewability measurement for direct campaigns or mediated network partners can do so via the MoPub SDK.
She also cited a Credit Suisse study that found that the percentage of marketers concerned about viewability in digital advertising rose 63 percent in March compared with three months earlier.
Publishers on MoPub can download the latest SDK to get started, while Miller said buyers interested in measurable inventory through MoPub should contact their account teams or demand-side-platform partners.
Source: Adweek