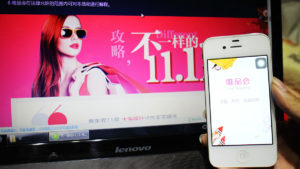 Tencent Holdings and JD.com will buy a slice of one of China's largest online retailers for $863m, forging an alliance to take on Alibaba in e-commerce and digital payments. The pair agreed to buy shares in US-listed Vipshop Holdings at a premium of 55% to their previous close.
The deal comes with a business co-operation pact that includes setting aside real estate for Vipshop on JD's site and Tencent's digital wallet, a thriving and integral part of the WeChat messaging service used by close to a billion people. Once known mainly as a video games distributor, Tencent has grown WeChat into China's premier social media platform.
Now it plans to use that ubiquity and JD — in which it holds a significant stake — to fend off e-commerce leader Alibaba Group. The agreement comes days after Tencent unveiled a $635m deal to buy 5% of hypermart chain Yonghui Superstores — a rare incursion into a physical retail arena that Alibaba covets.
"Tencent and JD need this assistance given Alibaba's spectacular execution in 2017," said Blue Lotus Capital Advisors founder Eric Wen. "Tencent needs to go from the backstage to the frontstage and that's what they've done. Tencent has acquired a stake in Yonghui and now Vipshop, this is something JD cannot pull off by itself."
The backing of Tencent and JD is a boon for Vipshop, which carved out a profitable niche in women's fashion but has now chalked up two successive quarters of net income declines.
Despite strong growth across categories like electronics, JD itself is grappling with renewed competition from Alibaba, which last quarter grew revenue by 61% and is making headway into overseas markets.
Tencent and JD are buying Class A Vipshop stock at $65.40 apiece, equivalent to $13.08 per American Depositary Share. Vipshop closed at $8.44 in the US on December 15.
Once completed, Tencent and JD will own about 7% and 5.5% of Vipshop's issued stock respectively, the two companies said in an e-mailed statement on December 18.
Rather than buy up entire companies, Tencent has traditionally preferred to strike deals with key players in segments it cannot dominate, such as e-commerce and search. Apart from JD, it also owns a substantial stake in Sogou.
Its decision to invest jointly with JD may have stemmed in part from Alibaba's growing dominance in online shopping, aided by a massive cloud computing division that's among the world's largest and investments in data capabilities and rural markets.
Alibaba's spending billions on physical retailers, which in turn drive online traffic and serves up valuable data for advertising.
JD is doing the same but on a much smaller scale, while Tencent's highest-profile effort so far was the Yonghui investment announced on December 15. Their investment may herald a bigger acquisition down the road, Wen said.
"This is a precursor for JD.com to acquire Vipshop completely because Vipshop doesn't need money and they have plenty of cash," he said.
As part of the deal, Tencent will give Vipshop a dedicated spot on Weixin Wallet, referring customers to its online shopping platform.
JD will also grant Vipshop a potentially lucrative slot on some of its shopping portals and help it achieve sales targets, the companies said. In return, Vipshop offers exposure to apparel and female shoppers — categories in which it excels.
JD chief financial officer Sidney Huang told investors in November that stagnant growth in apparel sales could last several quarters after dozens of merchants left for Alibaba's Tmall.
"The strength of Vipshop's flash sale and apparel businesses, as well as its outstanding management team, create clear and strong synergies with us," JD founder Richard Liu said in the statement. "This partnership will further extend the strong inroads that we have made with female shoppers, and will expand the breadth and reach of our fashion business."
SA's Naspers owns about a third of Tencent. Naspers shares were little changed in early trade on December 18, quoted down 0.11% at R3,306.40. The stock has risen 64.1% in 2017.
Source: Business Day