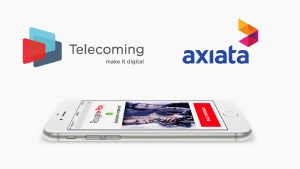 Telecoming, the Spanish company specialised in content monetisation has partnered with Axiata Digital – the digital services arm of one of Asia's leading telecommunications groups, Axiata Group Berhad, to enter the Malaysian market. The service will be integrated into Axiata Digital's Application Program Interface (API) hub or Mobile Internet Fulfilment Exchange (MIFE).
With this partnership, Telecoming will launch its mobile billing services in the country and will further develop multi-device monetisation models within the region. The company expects to carry out a 4M$ investment in the region, over the next two years.
The smartphone penetration in the Asia Pacific region is remarkably high, in line with its population density figures. More precisely, there are over 1.3 billion smartphone users according to Statista data 2017, when Western Europe and the US together are accounted for 500 million users.
Digital content billed to Direct Carrier Billing in APAC is expected to reach $786M in 2018, according to Juniper Research data.
According to Alí Karaosman, Telecoming's APAC Director: "It's a market with a great growth potential. Mobile payments are a real alternative to credit cards, since their penetration among the population hardly reaches 45%. Moreover, it's a market with a consolidated content consumption culture and 87% of users place mobile as their favourite device."
On the one hand, Telecoming's arrival to the region entails a firm commitment with the diversification of the current content monetisation market and the delivery of the most innovative services. On the other hand, Axiata's customers will benefit from the most innovative content monetisation services derived from the telecom conglomerate's alliance with Telecoming.
Chief Executive Officer of Axiata Digital, Mohd Khairil Abdullah says, "We are thrilled to partner with Telecoming and be able to bring longer term value to customers through this partnership in the digital ecosystem. With the MIFE platform being available at each of Axiata's operating companies, leading content service providers like Telecoming are able to instantly access hundreds of million mobile customers in Asia and accelerate the pace of service delivery through one central point."
Source: Telecoming