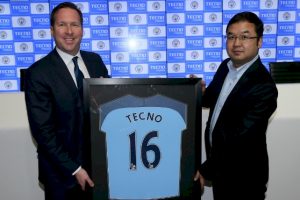 Chinese mobile phone manufacturers, TECNO Mobile, together with one of the biggest sporting clubs in the English Premier League, Manchester City, announced the launch of their new global multi-year partnership, which took place at the Manchester City Football Academy.
TECNO Mobile will work with the Club to grow their strategic marketing and advertising campaigns across the globe, including Africa where TECNO is served as the market's leading mobile phone brand.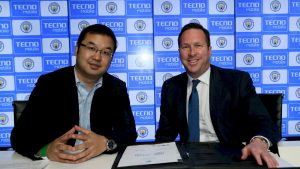 Tom Glick, Manchester City Football Group's Chief Commercial Officer, in his statement said; "the Club was delighted to welcome TECNO Mobile to Manchester City's growing repertoire of global partners."
"TECNO global focus coupled with a commitment to each of its local markets reflects our ethos and we look forward to working with them to connect with Manchester City's global fan base," Tom said.
Stephen Ha, General Manager of TECNO Mobile adds saying; "we're honoured to be partnering with such a successful and well known club as Manchester City, continuing our long association with sport at the highest level."
Source: TECNO Mobile