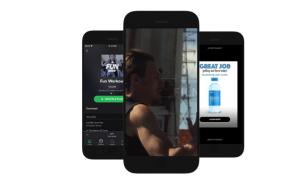 Music streaming service Spotify has begun serving vertical video ads using its new format 'Branded Moments', which launched in beta in October.
Like a number of the service's other ad format, Branded Moments offers users 30 minutes of commercial-free listening afterwards, but Branded Moments is the first video unit from the streaming firm to use mobile-first vertical video.
Spotify is currently in the midst of an concerted outreach to advertisers, promoting its audience targeting capabilities that tie into data it carries on user's music preferences and especially the 'moment marketing' potential that lies in targeting messages at users accessing specific types of playlist.
'Branded Moments' focus on playlists sorted into six specific categories such as workout, party and focus, with brands including Bose, Gatorade and Bacardi among the initial advertisers to take advantage of the new format.
"Spotify has become a life-curation tool, enhancing daily activities like commuting or working out, social occasions like partying and gaming, or major milestones like birthdays or weddings," said a Spotify spokesperson.
"We now have over 100m users spending more than 2 hours per day on our platform and our users are listening to over 2bn playlists (and counting) to soundtrack these everyday moments. And now, for the first time ever, marketers can brand these moments."
While 'Branded Moments' offers users 30 minutes of interruption-free listening following the vertical video, display banners are used whenever the app is accessed during that period to continue to brand immersion.
In many ways, Spotify faces the opposite problem to Facebook in that many of its adverts are heard but not seen, a potential roadblock in the increasingly video-focused world, but with formats like 'Branded Moments', it's clearly focused on addressing advertisers' desire for video formats that centre on mobile.
Source: Mobile Marketing Magazine