SEAT and Orange Spain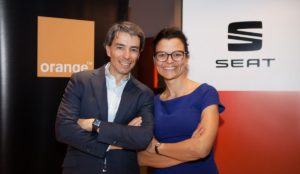 have signed an agreement that aims to promote new advances in the development and use of connected vehicles. The agreement focuses on three main lines of action – to improve the experience of vehicle occupants by developing connected car innovations, offer the digital home or office experience to car users, and implement a loyalty programme that promotes the frequent use of new connectivity and mobility solutions.
SEAT Head of Business Development Arantxa Alonso said, "we feel privileged to have strategic arrangements with partners such as Orange that give a major boost to our development of car connectivity." Alonso also added that "this partnership opens up a large collaborative space for both companies that are pursuing a common goal – promote the use of the connected car and make the car user's experience easier and more efficient."
A prominent initiative regarding vehicle digitisation carried out through this collaboration will be the launch of a project that seeks solutions geared at turning the vehicle into the user's second digital home. The goal is that both driver and occupants can integrate some of their daily activities in the safest and most efficient way while in the car.
The initial proposals of this collaboration will include leisure and entertainment services such as music, audiovisual and learning content, while guaranteeing the maximum safety of the occupants.
To encourage the use of these new connected car solutions, the companies will launch a cross-company loyalty and frequent use programme, offering drivers incentives through purchase discounts, rewards and gifts. Additionally, SEAT is going to use Orange's Big Data to offer products that most closely match users needs.
"This strategic agreement with SEAT is a great step for Orange in its strategy of connected objects and Big Data and opens the door to innovations and new developments surrounding cars of the future, which will contribute to helping us achieve our goal of connecting our customers with what truly matters most to them," said Luis Santos, Director of Innovation and New Digital Services for Orange Spain.
Source: SEAT