Samsung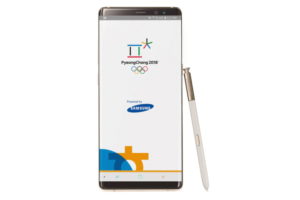 has launched The Official App of the PyeongChang 2018 Winter Olympic Games, the South Korean company has announced. This app was created in partnership with the IOC — the International Olympic Committee — as well as the PyeongChang Organizing Committee for the 2018 Olympic and Paralympic Winter Games.
Samsung describes its Olympics offering as an all-in-one app that aids fans in enjoying the Games via a bunch of different features. The official 2018 Winter Games app includes information on medal standings, real-time game updates, records data, and info on athletes. Certain location-based information is also available, including data on venues, news updates and ticket info. Fans can also support specific athletes via an "online cheering service," says Samsung.
Users have some customization options, including the ability to specify which results they are most interested in. The app can also be set up to provide push notifications for certain things, such as specific athletes, particular sports, or even preferred countries.
The app is now available for both iOS and Android; it is offered in several languages, including English, Chinese, Korean, Japanese, and French.
The 2018 Winter Olympics are scheduled to run from February 9 through February 25 in Pyeongchang, South Korea.
Source: Slash Gear