Following the recent announcement of Coldplay's new career-spanning documentary film, 'A Head Full Of Dreams', design & brand consultants Rabbit Hole are unveiling a re-launch of the globally-renowned band's interactive digital timeline, which charts Coldplay's rise to fame, from humble beginnings in London in 1998, to their current status as one of the world's biggest bands.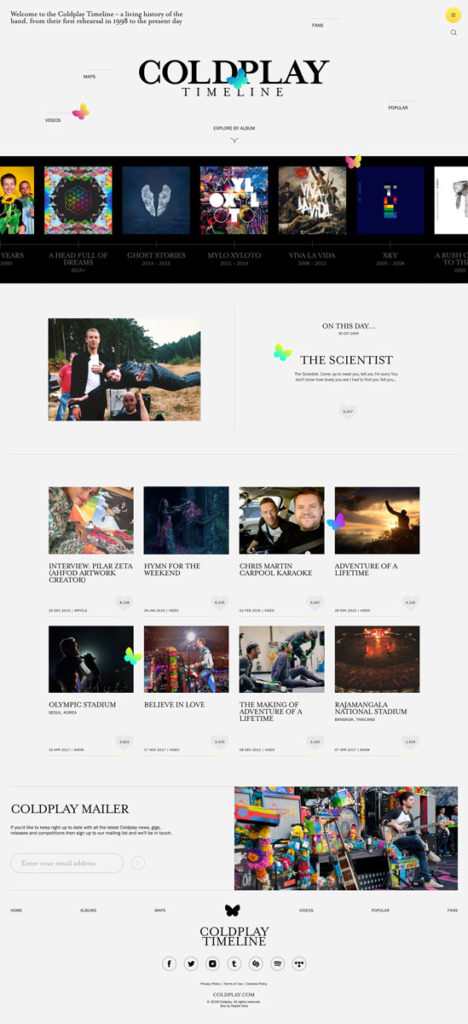 Rabbit Hole have partnered with the Coldplay team to re-imagine the band's extensive digital archive – comprised of behind-the-scenes videos, interviews, handwritten notes, and photography from the band; as well as documenting every show the band have ever performed.
One of the most remarkable features of the Coldplay Timeline is the way in which fans are able to contribute to the on-going documentation of the band's journey. To date over 32,000 fan photos and memories have been submitted, from every corner of the world. It's this unique collaboration between the band and the fans that Coldplay and Rabbit Hole wanted to cultivate and grow.
The ambition of the project was to make the experience of the timeline much more engaging and exploratory, by giving fans greater access to its rare stories and archival footage through the use of curated content lists and interactive maps. Rabbit Hole have also improved the content submission process, making it easier for fans to get involved and share their memories of the band's live shows and music.
"The Coldplay Timeline is a truly collaborative project, with content submitted from both the fans and the band." said Tim Dee, Creative Director, Rabbit Hole. "It was this unique style of documentation that felt really special. We've worked hard to improve the website experience for fans, so that they can continue to shape the content and share their memories alongside the band's."
"Rabbit Hole have invested a huge amount of care and expertise into the new coldplay.com Timeline. It's become a living, breathing resource for telling the story of the band and a testament to our incredible fans. We're extremely happy with the results," said Phil Harvey, Coldplay.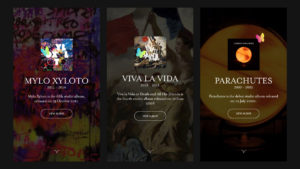 Few bands have managed to chart such a long career in so much detail online, it's a wonderful companion piece to the upcoming documentary and, 20 years on from when the band first formed in Camden, London, it's become a vital resource for the fans to follow the story of how it all came to be.
Coldplay's documentary 'A Head Full Of Dreams' will stream exclusively on Prime Video from 16 November. It's also in cinemas worldwide on 14 November.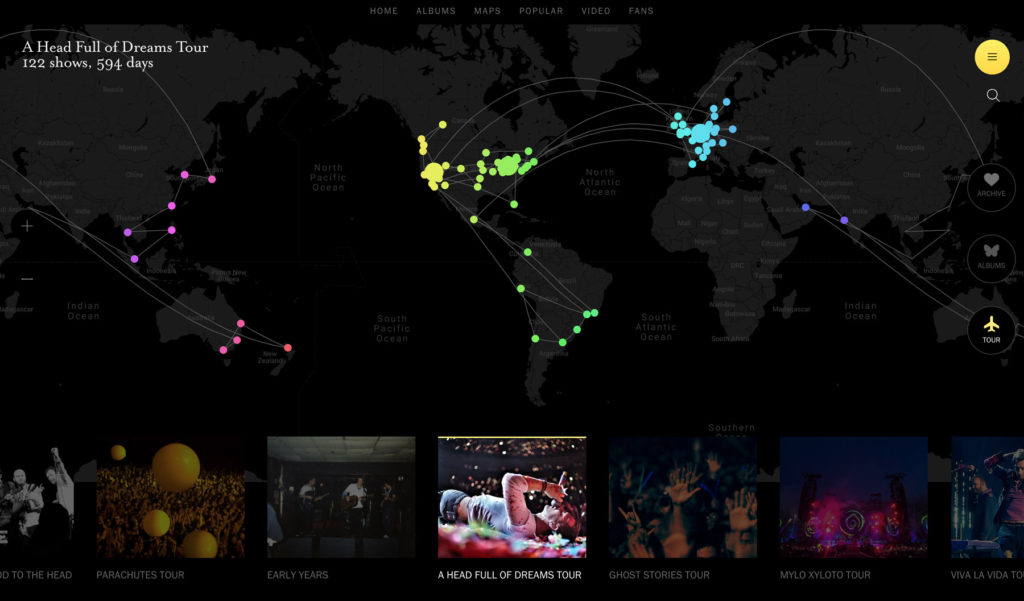 Source: Rabbit Hole