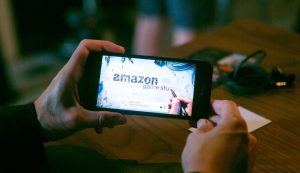 According to Survey Monkey, Amazon saw app usage skyrocket on Prime Day. Amazon's mobile app saw its usage increase by 35% last week, thanks to an influx of consumers wanting to cash in on Prime Day deals on July 12, according to new data from Survey Monkey.
The e-commerce giant debuted Prime Day last year as a one-day sale exclusively for members of its Prime subscription shopping service. The company's goal is to create a new shopping holiday similar to Black Friday—the busy shopping extravaganza the day after Thanksgiving—to encourage more spending on its site.
While Prime Day is a manufactured shopping event, the sales could mean real revenue for Amazon. The company said that it saw record sales last week, and retail advisory firm FBIC had predicted that Prime Day could generate $525 million in sales, up from $415 million's estimate last year.
It turns out that Amazon's mobile app was a big draw for Prime Day shoppers. Survey Monkey, which tracks mobile app usage, said that the shopping holiday drew 12 million mobile users last Tuesday, compared to around 8 million mobile users on an average day.
While Amazon did not release the exact amount of visitors to its mobile apps on Prime Day, the company said that Prime member orders on the Amazon app surpassed Prime Day 2015 mobile app orders by more than 100% Additionally, more than a million customers used the Amazon app for the first time on Prime Day to shop and track deals.
Survey Monkey also released a variety of stats showing the spending potential of Amazon's customers. Amazon's mobile app users have the highest median income compared to other e-commerce companies. Also, Amazon sees around 75,000 new downloads every day in the United States with most other companies seeing downloads in the thousands. And 50% of Walmart WMT 0.23% app users also use the Amazon app. However, very few Amazon app users use Walmart's app, Survey Monkey added, which goes to show how much Amazon's mobile app is dominating the competition.
Source: Fortune