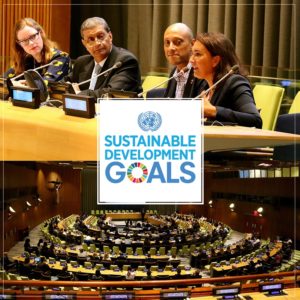 'There Are 17 Numbers That Can Change The World' captures world leaders attention at UN SDG Media Summit, with a decision to target a billion people
Out There Impact (OTI), have announced how they plan to help advance the United Nations (UN) Sustainable Development Goals (SDGs) by 2030, through harnessing the power of mobile.
After a successful "There Are 17 Numbers That Can Change The World," pilot campaign in Asia, Africa and the Middle East, the impact division of Out There Media, presented its methodology and findings to world leaders at the recent SDG Media Summit, at the United Nations HQ in New York.
Based on the initial campaign's triumph, a decision was made at the conference to roll the campaign out globally – with a target to reach 1 billion people.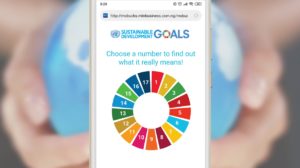 The UN's 17 SDGs are a call for action by all countries, to promote prosperity while protecting the planet. They recognize that ending poverty must go hand-in-hand with strategies that build economic growth and address a range of social needs including: education, health, social protection and job opportunities, while tackling climate change and environmental protection.
By targeting mobile phone users with the different numbers associated with the SDGs, recipients are asked to choose a number between 1 and 17. This reveals its true meaning and helps educate the receiver on how to achieve them.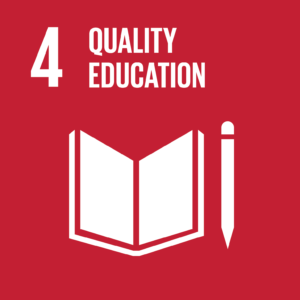 Daphne Loukas, CEO, Out There Impact, says: "Using our Mobucks™ platform, we are addressing the right users at the right time and the right place, with the preferred, direct medium of mobile. The targeted messaging campaign will reach both rural and urban areas and users from all socioeconomic classes and age groups across the globe. This will create meaningful awareness and a constant dialogue between the recipient and the SDGs, helping achieve its 2030 goal."
William Kennedy, Director of Partnerships, United Nations, adds: "Out There Impact's presentation at the SDG Media Summit was an eye opener for what capabilities can be achieved with mobile devices. We are excited to see how they can help advance the SDGs."
Sergio Fernandez de Cordova, Chairman, PVBLIC Foundation, concludes: "Out There Impact gives data a heartbeat. Our strategic alliance and partnership with them allows us to bring mobile and data to the fore and into the fold with regards to the data sets we have already been building. It's a perfect augmentation."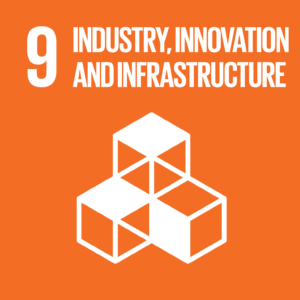 The 17 SDGs are: No poverty, zero hunger, good health and wellbeing, education, gender equality, clean water and sanitation, affordable clean energy, economic growth, industry innovation and infrastructure, reduced inequalities, sustainable cities and communities, responsible consumption and production, climate action, life below water, life on land, peace, justice and strong institutions and partnerships for the goals.
The initial pilot campaign saw hundreds of thousands of users interacting with the SDGs in Indonesia, Iraq and Nigeria, with a high engagement rate of 81%.
Source: Out There Impact