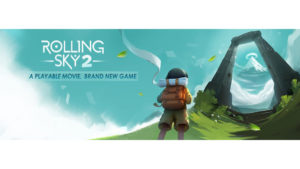 Cheetah Games announced the global release of its music arcade mobile game Rolling Sky 2, the sequel title to Rolling Sky which has had over 400 million downloads worldwide since its launch in 2016. The game is now available on iOS for free. 
With fascinating graphics and original soundtracks, players can experience striking visual and audio journeys. Gameplay is simple: all players have to do is steer their characters clear of each level's obstacles and traps. There are currently five levels available to play, with more to be released on a regular basis.
Rolling Sky 2 inherits its style from its predecessor, the global winner of 2017's Google Play Best Indie Game Award. With highlights including 3D graphics, beautiful background music, and new heroes to take the story in different directions, Rolling Sky 2 is designed to offer a vivid, highly enjoyable gaming experience.
It is the fourth music game from Cheetah Games, along with Piano Tiles 2 and Dancing Line, which stayed on the top of music game charts in App Store and Google Play since launch and were highly popular.
"We wanted to create an interactive musical movie for our players to engage with," stated Qin Shunyao, Rolling Sky 2's producer. "We aspire to make every frame and every piece of music perfect. To guarantee the best musical experience, all background music is elaborately written, and recorded by a live orchestra."
Rolling Sky 2 has already received recognition from players and the design industry, having most recently won the 2018 Red Dot Award for Communication Design.
Source: Cheetah Games