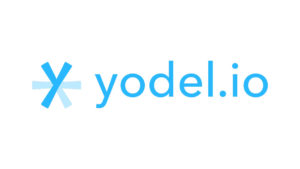 In less than two years, Yodel has redefined the phone call by becoming one of the leading cloud-based integrations for improved customer services and team collaboration. The Austrian communications startup has quietly developed partnerships to empower teams to manage phone calls using the platforms they use the most, such as Slack and Microsoft Teams, and it's natural speech solution allows companies to not only personalise customer experiences in 30+ languages, globally.
Yodel's speech to text technology has the unique ability to take in data during a voice call in the same way that text based customer support applications do elsewhere without compromising the natural flow for the customer or operator.
Founded in 2016, Yodel has gone from strength-to-strength, scaling its solution around the world. Starting in Vienna, Yodel now operates across Europe and the US, with additional offices in London and San Francisco. To date the team has received €1M in seed investment, and counts leading early-stage investor Seedcamp as a backer. Yodel was co-founded by CEO Mike Heininger, CTO Mario Uher, CCO Nina Hoedlmayr, and COO David Heininger and is now a team of 8.
"Back in 2016 when we created Yodel, we realised we were on track to shake up one of technology's least disrupted sectors, the telephone, and we were doing it by removing the phone itself from desks around the world. We're plugging the gap between receptionist and automated answering machine, to create a solution that can improve the efficiencies of businesses that still rely on a call for customer contact," said Mike Heininger, Co-founder and CEO of Yodel.
"When you're connected to another person through Yodel, that team member already knows the key information they need to move the conversation forward in the right direction – saving time, decision making, and unloading the burden of picking up a direct call. We've also added flexibility to the mix, and our integrations with tools like Slack and Zapier, are having a huge impact for Yodel users."
To date the startups has built notable partnerships and integrations with Slack, Twilio, Zapier, Atlassian and Microsoft. Yodel customers range from enterprises to large teams and agencies, all benefitting from the added flexibility that Yodel provides.
Yodel users can get local phone numbers in over 100 countries in order to stay close to their customers, and redefine customer experiences. The cloud based business phone solution integrates with teams and workflows, to make handling a phone call simple and effective, from anywhere.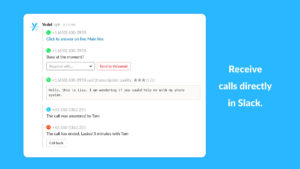 Through personalisation, the Yodel intelligent assistant can solve a variety of problems that a business might face, from using its natural speech solution that will talk to a customer before a team member does, to enabling your team to access the service from anywhere.
Yodel is the most advanced digital call assistant there is for enterprise – the text to speech, and speech to text functionality allows seamless transitions between human and automated calls, all stored and reference-able.
Rob Brazier, director of product management at Twilio said: "The modern consumer expects an excellent customer experience when interacting with a business. Yodel allows businesses to be more efficient in responding to customer communications by allowing them to communicate via the internal tools they already use, optimizing the experience for both parties. We can't wait to see what Yodel builds next."
Among the businesses growing accolades, Yodel was named a "Cool Vendor in Unified Communications and Collaborations' by Gartner in 2018 and has been featured on ProductHunt. The company is used by over 2000 businesses around the world.
Looking forward, Heininger states that, "Yodel aims to be the number one provider of intelligent phone-line assistant technology to business' by providing firms of any size with the technology previously only available to larger scale corporates. This will further streamline customer relations and provide the highest level of service for all that require it. We find it fascinating that so many companies are still using technology that has been standard for decades, we have created a platform that truly understands opportunities of the technology available today."
Source: Yodel