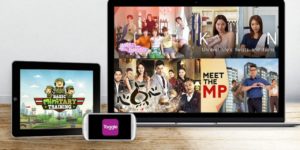 Mediacorp has revamped its advertising rates as it looks to create a better omnichannel experience for marketers.
The broadcaster has restructured its TV rate card to optimise it for parity with digital media, which it claims will result in potential savings of up to 80% for marketers. It has also introduced all-in-one transmedia master contracts which are long term advertising deals of one year or longer covering all its multiple platforms.
The company claims the rate card changes will offer clients greater value, effectiveness and impact with their ad spend as it works towards providing the most comprehensive set of transmedia solutions available to marketers in Singapore.
In May 2018, Mediacorp introduced a blended model of optimising video buys through its blended cost-per-viewer (CPV) model, which it claims is now used by over 20 advertisers in Singapore.
The model provides optimal reach at the most cost-effective rate across Mediacorp's TV channels and its over-the-top platform, Toggle. Earlier this month, Mediacorp became YouTube's strategic content partner in Singapore, giving marketers the option of buying integrated ads from Mediacorp across YouTube and TV platforms.
"We are making these changes based on our audiences' changing media habits and our clients' feedback," said Parminder Singh, the chief commercial and digital officer at Mediacorp.
"With parity between TV and digital media, the cost-effectiveness of our revised TV rate card and flexibility of the new transmedia master contracts, we are confident that our clients will get a significantly bigger bang for their buck. With our new transmedia solutions, advertisers and clients can embark on campaigns with greater confidence and focus on achieving results without worrying about being tied to specific media platforms."
Source: The Drum