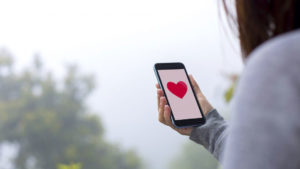 A home heating organisation has created a novel dating app which romantically matches people based on their central heating preferences.
The new app, HeatMatch has been launched following the results of a survey which found that half of Brits (49%) have argued with family members over the temperature of the house.
HeatMatch has been created by central heating industry specialists, Boiler Plan, in a bid to match those who like to keep warm with other like-minded 'hotties' and cold blooded 'chillers' to ensure thermostat tensions are kept to a minimum.
In a recent survey conducted by Boiler Plan, 52% of females admitted that arguments have taken place over the temperature of the home, and 47% of men have also squabbled over the heating.
In a list of the most common arguments within the home, temperature comes before what to have for dinner, being inconsiderate of other people sleeping and lack of privacy – proof that thermostat tensions are rife across the UK.
"We have created HeatMatch following the results of a survey we conducted earlier this year which found that home heating is one of the root causes of arguments in the home. As central heating specialists who always go the extra mile to ensure our customers are happy, we thought we would be foolish not to address the issue head on," said Ian Henderson, Managing Director and Founder of Boiler Plan.
"Our survey has shown that there are definitely two different camps within the UK when it comes to heating preferences, those who like the heating on (hotties), and those who don't (chillers). We hope by matching people based on their heating preferences, the number of arguments within the home will fall rapidly and we will see even more happy Boiler Plan customers."
Like other traditional dating apps, HeatMatch offers the user potential suitors based on location, as well as preferred age, gender and sexuality. Users also get to browse photos and bio information as per existing apps.
The USP of HeatMatch is users must select whether they identify as a 'hottie' or a 'chiller' when creating their profile, and they will ONLY be matched with other users who select the same heating preference to reduce to the likelihood of the thermostat being vandalised within the home. There's also the chance that matched suitors will get a little steamy under the covers in a bid to warm up!
The app launches on April 1st, 2019 for a limited period only, and will be removed at noon on April 1st. Download now and never be fooled into the wrong relationship again.
Source: Boiler Plan