LinkedIn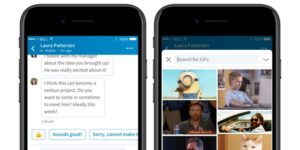 has really been loosening up its tie thus far in 2018.
First, the professional network introduced its 'In It Together' integrated marketing campaign during the 75th Annual Golden Globe Awards in January, trying in part to shed its "white collar businesspeople" stereotype.
Then, last month, LinkedIn added a touch of Snapchat and Instagram with its debut of filters and text styles for members' videos.
And the latest attempt to inject some fun into LinkedIn was an announcement that the professional network has teamed up with Tenor to allow users to integrate GIFs directly into their messages.
Users can now search for GIFs directly within the messaging interface and add them to their communications. The feature has begun rolling out and should be available to all users "in the coming weeks."
Principal product manager Arpit Dhariwal said in a blog post that seven out of 10 Americans use GIFs and other visual elements like emojis in their conversations, adding, "Just make sure to take into consideration if it's acceptable in your workplace—think about your company's culture, your professional relationship with the person and the industry you work in to decide if it makes sense to send a GIF."
Source: Adweek