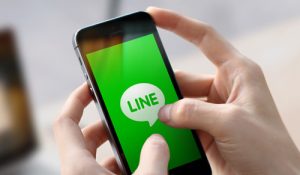 Messaging service Line will total 50.2 million individuals in Japan this year, according to eMarketer's latest forecast, increasing 10.3% from 2016. By the end of 2021, that user figure will reach 58.5 million.
The homegrown service is the largest chat app in Japan, with 92.8% of the country's mobile phone messaging app users regularly accessing the platform this year. A significant majority of smartphone users—85.3%—will also be regular users of Line, eMarketer estimates.
Line was created in response to the 2011 Tohoku earthquake in Japan that took down more traditional means of communication for extended periods of time. The app—developed by NHN Japan, a subsidiary of South Korean internet company Naver—was used specifically for people to contact family and friends during a similar crisis. Initial adoption in Japan was quick, and growth has been steady since.
As a result, the app is nearing major milestones in Japan. In 2018, more than half (51.2%) of Japan's internet users are expected to access Line monthly, as will more than half (51.8%) of mobile phone users come 2019.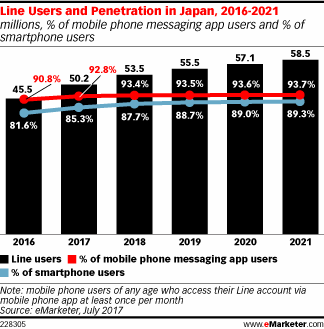 While messaging remains key to Line's appeal, the app has taken a page from WeChat and added a variety of services to draw new users. For example, Line Pay enables users to make payments and transfer funds. Line reported in May that at least 30 million people in Japan had registered for the service. More than 30 banks in the country currently allow customers to link their bank accounts to Line Pay, encouraging usage of the service.
In addition to payments, Line also offers ride-hailing, music and video streaming services.
Line has also invested heavily in the popular APAC-based Snow, which is widely described as a clone to Snapchat. Earlier this year, Line handed over control of its photo-based services, including the Line Camera app, to the company.
Snow is popular in China and South Korea. However, it's unclear whether the app will increase Line's reach in those countries. Japan though will continue to be a focus for Line. While the app is also established in Indonesia, Taiwan and Thailand, the total number of users in Japan is greater than in those countries combined.
Source: eMarketer