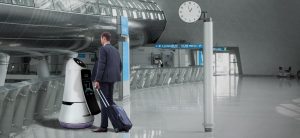 Electronics giant LG has introduced a number of robots to Incheon International Airport (IIA) – South Korea's largest and busiest airport – as the East Asian nation prepares to host the 23rd Winter Olympics in February 2018.
As part of a trial, the airport's staff has received the addition of guide robots and cleaning robots to assist approximately 57m travellers who pass through the airport every year. The guide robot will roam around the airport providing information and assistance to visitors, while the cleaning robot will make sure the airport floors remain in tip-top condition.
"LG is dedicated to the advancement and development of its robot technologies which includes navigation, voice recognition, natural language processing, and of course, DeepThinQ," said Song Dae-hyun, president of LG Electronics Home Appliance & Air Solutions Company. "It is this kind of effort and innovation that will drive LG forward in the Fourth Industrial Revolution."
The guide robot is equipped with LG's voice recognition platform and can understand Korean, English, Chinese, and Japanese. It connects to the airports central server to provide information regarding boarding times and the locations of restaurants, shops, restrooms, and more. Furthermore, the guide can escort late or lost travellers to the right departure gate on time with just the scan of a boarding pass.
Meanwhile, the cleaning robot takes the LG Hom-Bot's cleaning capabilities, autonomous navigation, and object-avoidance skills and applies to the airport's public environment. Through machine learning, the robot detects the areas that require most cleaning and stores those locations in its database.
Source: Mobile Marketing Magazine