Most people think that memory loss, one of the main symptoms of Alzheimer's disease, only affects those in later life. But the disease can actually affect people as young as 40. With over 40,000 people under 65 living with dementia in the UK.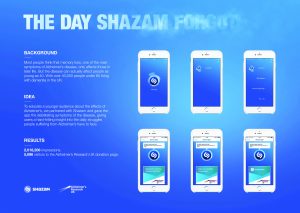 To educate a younger audience about the effects of Alzheimer's, Innocean Worldwide UK partnered with Shazam and gave the app the debilitating symptoms of the disease, giving users a hard-hitting insight into the daily struggles people suffering from Alzheimer's have to face.
The campaign generated  over 2 million impressions, and over 5,000 visitors to the Alzheimer's Research UK donation page.
Source: Innocean Worldwide UK