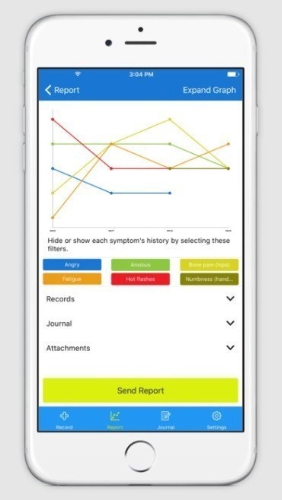 Malecare, America's leading men's cancer survivor support and advocacy national nonprofit organization, recently launched Cancergraph—a mobile application that tracks cancer symptoms. Designed by cancer survivors and caregivers, Cancergraph focuses on the unique experiences faced by those who are diagnosed with one or more cancers.
Cancergraph serves as a memory tool, giving patients and their doctors reliable reports about day-to-day cancer-related experiences. With an easy-to-navigate interface, patients can choose from a list of over 200 symptoms and side effects, and have the option to include cancer types, medications and concerns. Cancergraph then distills the data into a report that patients can view on their phone or email to doctors.
Patients can also take disease- and symptom-related photos to be added to a secure photo storage area on their mobile device. Additionally, Cancergraph has a journal feature so patients can document their experiences in more detail.
"For anyone who is going through cancer this is an invaluable tool," said Darryl Mitteldorf, founder of Malecare, "The ability to accurately keep track of symptoms and side effects changes cancer care for both the patient and doctor."
Cancergraph is free to download and is currently available on iOS.
Source: Malecare