Swiss milk processor, Emmi, alongside multinational food packaging and global leading packaging company, Tetra Pak, today launched a new augmented reality (AR) connected experience accessed via its smart packaging. Created in partnership with digital experiences studio, Appetite Creative, the AR enabled experience looks to encourage healthy, happy and positive lifestyles among customers.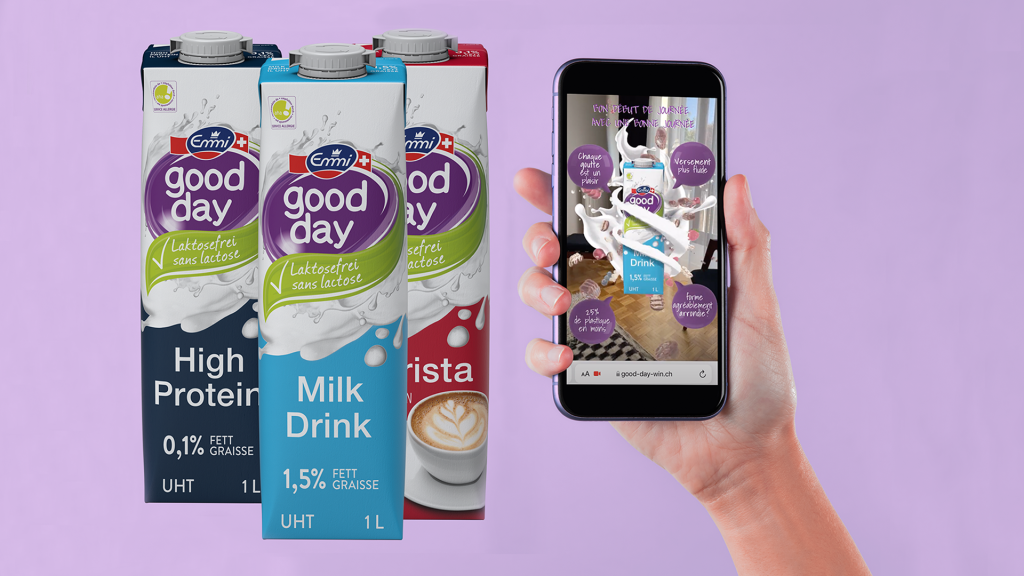 Designed for Emmi good day by Tetra Pak, the new sleeker Tetra Stelo® Aseptic 1000 packaging combined with the connected experience looks to raise awareness about the Emmigood day brand and milk drink products in the new package format. Encouraging users to 'start the day with a good day' by simply scanning the new packaging with their mobile phone camera. The web-based app welcomes them with an AR animation around the packaging, revealing a menu of experiences to give them inspiration about how to add 'more Emmi into their day'. Fun facts highlight packaging improvements.
"Our interactive connected experiences are hugely popular and successful across our range of products and packaging. We're pleased to be brightening the day of our customers with this new sleeker Emmi good day packaging and a connected experience which combines fun games and education about how to be happier and healthier. We hope our customers love it as much as we do," said Amir Maslic, Senior Brand Management at Emmi.
"We're super excited to be launching our third campaign with Emmi, alongside our new Tetra Stelo® Aseptic 1000 packaging. We expect interactive connected experiences to help bring consumers closer to Emmi good day and to improve brand image and recognition," said Susanne McKinley, Marketing Manager at Tetra Pak Mid-Europe.
"We have worked with Emmi for a number of years to develop and evolve its connected packaging experiences. From launching new products to offering fun interactive games, the popular app-based experiences offer fun for all the family, while giving Emmi the opportunity to adapt marketing messages and connect with customers authentically in real-time. We're proud to share this next iteration in our brilliant and successful partnership for the brand," said Jenny Stanley, Managing Director at Appetite Creative.
Interactive games available on the app include a 'Move your Body' AR fall game which enables users to choose between Barista, High Protein, or Milk Drink as a way to educate them about the three new milks drinks available, and they then collect fruit, oats, and other ingredients in their cereal bowl. 'Breakfast Ninja' 2D game encourages users to slice different breakfast ingredients in a race against time. At the end of each game regularly updated recipe ideas and inspirational quotes are shared. By interacting with each experience users collect points and join a leader board to win prizes. Each week the top scorers on the leaderboard will win prizes including Apple Watches, yoga mats, as well as milk frothers. Users will also be encouraged to share on social media to earn points.
The web-based app tracks real-time interaction to enable the brand to optimise marketing and will be supported across social media to spread the word and encourage engagement.
Source: Appetite Creative