Disney Australia has launched its own standalone messaging app aimed at creating a family-friendly channel for kids to communicate over which integrates games and education resources.
Disney Mix is approved for "4+" on the app store, and includes reminders about online safety, cyberbullying and harassment, with an integrated "Whistle" icon in all chat threads that can be used to call up an adult moderator.
The app also includes a range of features designed to appeal to children, including shareable games which make use of users' customised avatars, stickers and Disney images that can be overlaid with text.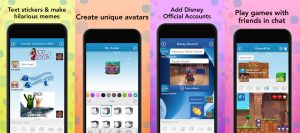 Users can also follow various Disney channels within the app to keep up to date on the latest news about their favourite shows, with video content featuring stars and behind-the-scenes footage.
Overall, the app straddles the line between messaging service and full-blown social network. Disney has created online communities for children before with its successful Club Penguin and MarvelKids projects, and has been relatively successful at creating safe environments that are family-friendly. It's also been increasingly pushing into mobile, with social sharing app Disney LOL and a gamified emoji keyboard both released in the past few months.
With Disney Mix, parents are encouraged to discuss online safety and etiquette with their children before letting them sign up. Disney clearly has big plans for the app, with features like photo and video sharing are on the horizon, and a wider release planned for later in 2016.
Source: Mobile Marketing Magazine