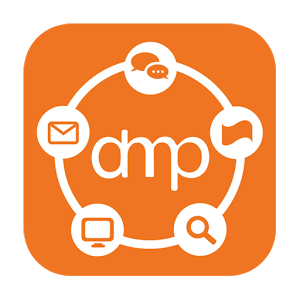 Digital Marketing Pro, the microlearning edtech platform revolutionising how digital marketing skills are taught, is launching globally, having reached market dominance in its native Sweden.
The Digital Marketing Pro (DMP) app, available on iOS and Android, is the first global product from Stockholm and Barcelona-based AIAR and aims to create the next generation of digital leaders by offering personalised microlearning. DMP's three-step programme – consisting of tutorials, tests, and practical tools – enables users to become a certified Digital Marketing Professional in the most efficient way, negating the need to enrol on expensive and prolonged courses. This diploma is granted by the world's largest advertising organisation, The Association of Swedish Advertisers – and significantly boosts career prospects in one of the fastest-growing sectors of the job market.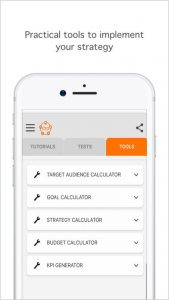 Digital marketing accounts for 35% of marketing budgets in Europe, and 37% in the United States, and is expected to grow to up to 70% within the next two years, according to eMarketer. While companies are spending ever-increasing amounts on digital media, a significant knowledge gap exists, with only 9% of the world's marketing agencies and in-house teams stating they feel confident when it comes to their digital investments, according to Adobe Digital Distress. DMP solves this by democratising the learning of digital marketing skills, making the professional discipline accessible to anyone – from ambitious parents in the developing world wanting to educate their children in new vocational skills, to the student in Florida wanting to spice up their résumé, to the businessperson in Sao Paolo seeking to take their business to the next level.
3T Method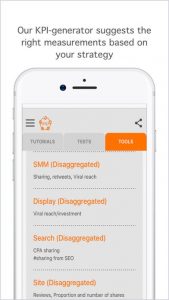 DMP's next-gen microlearning application is based on an innovative 3T method, which is designed specifically to increase competence levels and learning speed. Micro-learning is a new way of teaching that breaks down complex subjects into smaller nuggets that can be easily digested one at a time, making it a simpler and more time and cost-effective way to learn. Users are granted flexibility, learning when and where they want, with just ten minutes of learning each day enough to become digital marketing experts. The 3T method stands for:
Tutorials – through informative content and video, users learn the theory behind the strategic approach to digital marketing and sales
Tests – once a user has read through the tutorials, they are then ready to apply their knowledge in three interactive tests: Digital Theory; Digital Practice; and The Practical Language in the Digital Day-to-Day. These tests help users keep track of progress and prove their knowledge, with diplomas being awarded by The Association of Swedish Advertisers to those who complete the tests
Tools – users are then given the opportunity to put their newly learned skills into practice by producing high quality digital marketing strategies, including: Target Audience Calculator; Goal Calculator; Strategy Calculator; Budget Calculator; and KPI Generator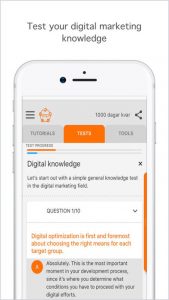 DMP is set to capitalise on the shift from people learning offline to online, with 74% of people using their mobile phones for educational purposes (2013 Ambient Insight Premium Report on the 2012-2017 Worldwide Mobile Learning Market), resulting in the mobile learning market's value reaching an estimated value of nearly $40 billion by 2020 (2015 Mobile Learning Market report by Solution). According to the National Student Clearinghouse Research Center, college enrolments have fallen for the fifth straight year, demonstrating how attitudes towards education are changing.
Rufus Lidman, CEO of AIAR, comments: "The current channels for learning digital marketing skills are completely broken – expensive colleges and universities that offer time-consuming courses cannot keep up with the latest developments in this ever-changing field, meaning that people's knowledge can quickly become outdated. It is staggering that while companies invest more in digital media, there is a significant worldwide knowledge gap, resulting in a lack of trust when it comes to ROI. With DMP's microlearning platform and 3T method, we are revolutionising the way people all over the world, regardless of their background, learn these crucial skills and improve their prospects. As a company we are continually looking forward, with truly game changing AI and AR developments in the pipeline."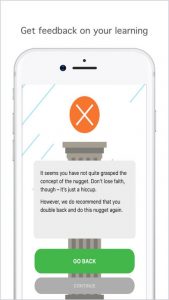 Users can also choose to receive daily or weekly email-reminders, as well as notifications following periods of inactivity. Additionally, if a user is uncertain about the definition of a particular word they can press down on it and open up DMP's eDictionary. DMP's advanced learning tutorials are available to download and use for free, offers in-app micropayments which give users access to an exclusive test, as well as tools and other extra material.
AIAR is revolutionizing the way people learn and develop skills through a unique edtech platform that uses AI to completely personalise the education process and innovative AR technologies to provide just-in-time knowledge.
By using AIAR's microlearning approach, the learning process is democratised and becomes truly accessible for everyone – knowledge is made simple and can be accessed anywhere, at any time, at a low (or no) cost. This game-changing perspective disrupts traditional education and guarantees AIAR's dominance of more than 1/10 of the entire digital learning market by 2022.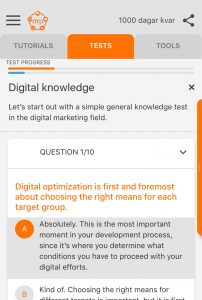 AIAR's initial microlearning app is Digital Marketing Pro (DMP). Focusing on digital marketing strategy, the app is a precursor of AIAR's 3T-method (consisting of Tutorials, Tests & Tools) for customized learning.
Combining the top data-driven insights from the field and a groundbreaking edtech platform, AIAR will lead the next generation of digital heroes… daring to change the world.
Since its launch in 2015, AIAR has been commissioned by some of the world's most recognisable brands for digital marketing expertise, including IKEA, Samsung, Mercedes-Benz, E.ON, and Electrolux. AIAR's board consists of some of Europe's most successful and prominent digital entrepreneurs and investors, including Kent Sander, Mattias Hjelmstedt, Magnus Larsson, Rufus Lidman, and Mattias Hansson.
Source: AIAR