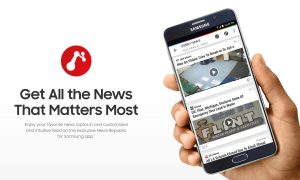 Cheetah Mobile, the leading mobile utility and content app developer, announced an exclusive "Made for Samsung" app release of its News Republic mobile news app specifically designed for Samsung mobile products.
Available from January 18 in the Samsung Galaxy Apps store, the "News Republic for Samsung" app introduces several exciting new features:
Text-to-speech: Article pages now have a speaker icon that users can tap to activate text-to-speech functionality. Playback controls will appear at the bottom of the screen.
Long-press for more info: Within a news article, Samsung users can now long-press on a topic to view Wikipedia information without leaving the article.
Edge Panel news: Samsung Galaxy S7 edge owners can get the freshest news, simply by opening their Edge Panel app. A list of Breaking News will appear, and a single tap will open the article of interest.
Gear S3 widget: News Republic is now compatible with the Gear S3. The new widget displays the Top Stories, and users can click to read the full articles, with the help of a circular scroll bar, directly from their smartwatch.
Newsstand: Users can select individual news outlets to follow from within the app. News Republic's learning algorithm will also recommend content providers directly in the article list page.
"We're thrilled to work closely with Samsung to offer this latest version of the News Republic app," said Charles Fan, CTO of Cheetah Mobile.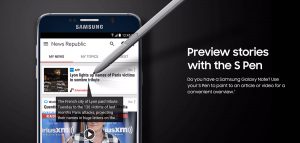 "New features like text-to-speech, long-press for more info, and Gear S3 support, will make News Republic's personalized AI-powered experience even better for Samsung users. We know Samsung takes pride in offering their users new and innovative ways to consume news and interesting content, and we're honoured to provide a 'Made for Samsung' version of News Republic for their popular mobile devices."
Cheetah Mobile acquired News Republic in 2016 to drive the company's emergence as a leading mobile content company. The News Republic app has achieved the No.1 position in the News and Media category in over 60 countries on Google Play, and it has been No. 1 in News and Media in 23 countries/regions on iOS.
Source: Cheetah Mobile