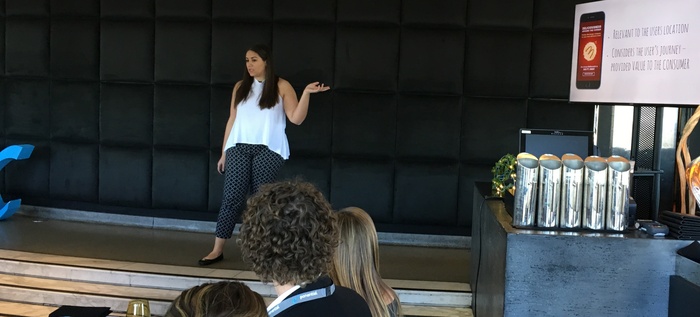 Building better mobile advertising experiences comes down to understanding the consumer journey, being contextually relevant, and respecting their ability to opt in and out of engagement.
That's the view of Exponential head of mobile for APAC and South Africa, Nicole Liebmann, who presented on how to optimise mobile advertising at the vendor's recent customer breakfast event in Sydney.
Liebmann said brands were not doing enough to maximise on the rise of smartphone and tablet usage, and identified four key elements that should sit at the heart of a clear mobile strategy. The first is understanding the consumer journey.
"Mobile usage is highly fragmented, and session times are very low," she told attendees. "There is a much more limited communications window. You need to build native advertising and engagement that's direct and useful, can be consumed quickly and easily, and that has very strong calls to action and the right terminology for a mobile environment."
With so many targeting variables available to marketers today, from location to time, behavioural data and topic, Liebmann said there were ample ways to be more contextually relevant. As an example, she pointed to a recent McDonalds mobile campaign, which used geofencing to target ads to consumers within close proximity to one of its physical restaurants. Using a burger icon and mapping technology, consumers were shown the direction to the restaurant, as well as provided with the distance and directions.
Even more important is the need to show respect and give control to consumers in a mobile context, Liebmann said. With hundreds of millions of consumers now using adblocking technology, it's vital mobile advertising has an element of opt-in engagement, she said.
"This is one we don't adhere to the most in the market today," she claimed. "This can result in consumers proactively ignoring your ads and result in adblocking. And that means consumers turn off the 'good' as well as the 'bad' ads."
Liebmann noted that in recent AdBlock research, 51 per cent of respondents were using blockers to control their user experience.
"It's about using functionality that allows them to control that experience," she said, highlighting ads that block content or don't feature close buttons as core culprits in the rising ad-blocking trend.
A third suggestion from Liebmann was to embrace rich media in combination with native elements and functionality that exists within a mobile platform, such as swipe, tap, touch and shake. She claimed averages across mobile campaigns produced by Exponential in the last 12 months that used rich media saw clickthrough rates of 3.05 per cent, significantly higher than the 0.35 per cent market average.
"This allows consumers to move through ad experiences in a more organic way," she commented. "We also aren't taking advantage enough of the fact that consumers are directly touching our ad units. That allows a more emotional bond."
And it's clear brands need to better tailor their content and activity to the mobile environment if they want to be relevant, Liebmann said. "This is vital to ensure we deliver value to the consumer," she said.
Asked if the onus for building better mobile experiences sits with brand owners or the publishers, Liebmann said both sides have a responsibility for improving the way advertising is done across these highly personal devices.
"A lot of the pressure is sitting with the advertisers, but publishers need to take ownership of this as well. They need to be building ad units and formats that aren't intrusive and that do have the consumer and advertiser's best interest at heart," she said. "But it is a big chicken and egg. Sometimes, advertisers want those standout units and if the publisher goes back and says 'we have this other ad unit that isn't as intrusive', the advertisers potentially just go to another publisher. So publishers will revert back to those more intrusive units to get that revenue."We need to be conscious of it though on both sides."
Source: CMO