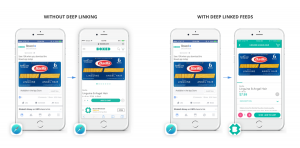 Mobile linking platform Branch has launched a new solution that enables advertisers to easily integrate deep links into their product feeds in dynamic ad campaigns, instantly delivering consumers to content within native apps.
The new solution lets advertisers creates mobile-optimised links for product feeds at scale that take consumers to ad content in the app with full attribution visibility, simplifying the customer journey and maximising return and engagement for advertisers.
Native apps have consistently shown higher conversion and retention rates than the mobile web, and represent a huge opportunity for digital retailers, but delivering consumers to specific landing pages still proves a challenge.
Branch's Deep Linked Feeds aims to make it easy for advertisers to create and manage deep links for every item in their product feed, which can then be used for dynamic retargeting campaigns that take users straight to content within a native app.
"Native app users are typically the best, highest spending customers for brands," said Alex Austin, CEO and co-founder of Branch. "That's why we're excited to launch Deep Linked Feeds for Dynamic Ads, to help advertisers give those customers the best user experience by linking them to the app when installed.
"Dynamic remarketing campaigns on desktop have been proven to deliver 16x return on ad spend, and we're happy to see that initial results from partners have shown that deep linking your best customers to the native app has performed even better."
Ad tech firms including Criteo, Fiksu DSP, MediaMath and Jampp have all partnered with Branch to launch the new solution, and launch partners Boxed and SeatGeek have  already run campaigns using the solution that have seen significantly higher returns from ad spend, driven by in-app conversions.
"We've been using Branch deep links in remarketing campaigns to better engage with mobile audiences, especially those with the Boxed app," said Helen Pan from Boxed's marketing team. "This has allowed us to serve personalised dynamic ads and route target audiences to the Boxed app across devices, and we've seen strong results."
Source: Mobile Marketing Magazine