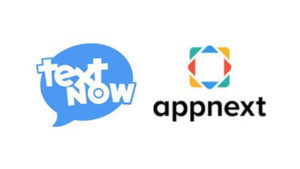 Appnext, a leading mobile discovery platform, has announced that TextNow, the first ever full-service freemium wireless company with over 100 million downloads, has integrated Appnext Actions into its Android app's messaging stream.
Appnext Actions maps key phrases in users' text conversations to seamlessly connect users to additional services they need such as ordering a taxi, making a restaurant reservation, booking travel, shopping and commuting.
It gives TextNow a new private-labeled revenue engine that delivers both the advertised services and back-end technology without impacting TextNow's existing premium and ad display business models. TextNow also integrated Appnext's native ads solution, achieving over four percent conversion rate. Together, the solutions give TextNow an diversified monetisation strategy.
The integration of Appnext Actions in TextNow avoids standard advertising-like interruption of the users' chat flow; users can interact or ignore suggestions. Users are showing a very positive engagement with the new feature: an average conversion rate over 12 percent click to install, 13 times higher cost per thousand ad impressions and over five hundred thousand users visiting the Appnext Actions landing page each month.
Thanks to this unique integration, over the last few weeks TextNow and Appnext helped reinforce the brand of promoted advertisers to TextNow's large audience and drive thousands of new customers.
While Facebook's Messenger app has AI-driven services recommendations, 'M suggestions,' they are only available within its own app. Appnext Actions provides TextNow and other apps the opportunity to bring such real-time, contextual services and recommendations into any mobile real estate that an app publisher, a mobile carrier or an OEM controls, such as lock screens, widgets and news feeds. Appnext Actions can even detect when a user is most apt to need assistance and offer the user a helpful service.
Derek Ting, TextNow's CEO, said, "At TextNow our goal is to create advertising products to drive a win for advertisers, publishers and most importantly, for users. With this product, we've been able to do all three: we've raised user engagement, for the advertiser, we're bringing in higher CTR than standard ads: and we have a new revenue stream."
Jason Akel, Appnext's General Manager of North America, explains that "TextNow is an example of how an invaluable tool in a user's daily routine can become even more useful in a fun and unobtrusive manner. TextNow is evolving into a hub for their users' mobile engagement by short-circuiting their need to search online or browse the Google Play store for a solution to their needs. Of the thirty actions available, the most popular are: start shopping, listen to music, play a game, order a taxi and start exercising. TextNow is a true partner and we are working together to make this cooperation an even greater success than it is right now."
Source: Appnext