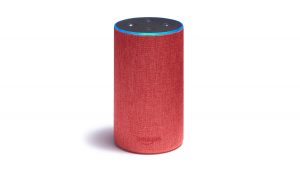 The new, second-generation Amazon Echo smart speaker comes in a variety of different coloured shells. Amazon is adding one more to the mix: a bright red shell that'll help raise money for the fight against AIDS.
The newly coloured Echo is part of a collaboration between Amazon and (RED), and just one of a collection of new (RED)-inspired products currently available on Amazon.
A portion of the proceeds from each sale goes to the Global Fund to fight AIDS in Africa — with the red Echo, Amazon is pledging $10 for every speaker sold now through December 31.
Bank of America is also pledging 30 cents for every dollar spent on Amazon's (RED) collection during the same timeframe, up to a maximum contribution of $1.5 million (this applies to US sales only).
The red Echo is up for preorder now at the same $99 price that you'd normally spend on an Echo. Units are expected to ship out a few weeks from now, in early December.
Source: CNET