Airbnb announced that it is expanding its scope significantly, moving from a home-sharing business to a "holistic travel" company, said CEO Brian Chesky at the Airbnb Open event in Los Angeles.
It rolled out a new feature called Trips as part of an app update designed to provide travellers with a one-stop shop. The feature focuses on three areas—experiences, places and homes—and the company plans to add flights and services in the future.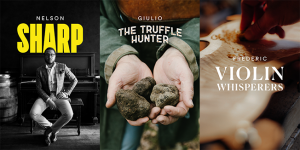 Airbnb hosts can now offer unique experiences, allowing users to try different activities while traveling, like taking a lesson from a samurai sword artist, learning to make a dress or getting a makeover.
"'Experiences' are our handcrafted experiences that allow you to immerse in the local community," Chesky said. "These are offered by local hosts, and we have two types: We have immersions, which are multi-day experiences, and we have single-day experiences, which are just a few hours."
He added that Airbnb "designed this to be both magical and easy," and the goal is to connect travellers with locals they wouldn't normally meet. The result, he hopes, will be a truly immersive experience.
The new feature kicks off on November 17, with 500 possible experiences for travellers to choose from in 12 cities around the world, including Los Angeles, San Francisco, Miami, Detroit, Havana, London, Paris, Florence, Nairobi, Cape Town, Tokyo and Seoul. Hosts can now request to offer experiences, like learning about star gazing, to Airbnb's listings in these cities and future cities.
To get users interested in these activities, the company took inspiration from the movies, explained Chesky. Each experience has its own poster and trailer.
Another portion of the Trips feature, places, taps into recommendations from Airbnb hosts to give users an alternative to tourist traps, offering what the company pitches is an authentic experience of a city where they can see what it is like to "live there."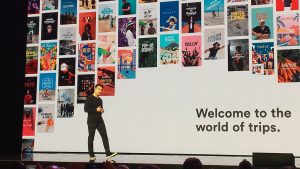 The company has also added another function to its app, the Trip Itinerary, which gives users the "ability to easily book and add experiences or things to do." The Trip Itinerary will evolve its capabilities "based on machine learning to dynamically suggest personalized and contextual (i.e. based on location) recommendations during a trip," according to the company's release. "Airbnb's vision is to ultimately cater for every aspect of a trip, making it both easy and magical from start to finish."
"Even from when we started we've really always been about a trip," said Chesky. "And when we're at our best, this is who we are."
The company has also partnered with Resy, a reservations company, to add restaurant reservations to the app. And it partnered with Make a Wish foundation to grant wishes through its experience function daily.
Source: Adweek