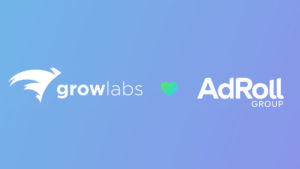 Data-driving marketing solutions firm AdRoll Group has acquired Growlabs, a B2B lead generation startup, with the aim of expanding the firm's RollWorks business unit, which focuses on enterprise sales and marketing.
AdRoll Group launched RollWorks in February 2018 to provide B2B marketers with an account-based marketing (ABM) solution that spanned from account discovery through to engagement and measurement. Adding Growlabs, which offers a comprehensive B2B database and suite of lead generation and outbound sales automation technologies, will bolster its identity graph and data capabilities and amplify its overall B2B offering.
"This acquisition gives us the ability to enable our customers to leverage the precise data needed to connect with B2B buyers at scale," said Toby Gabriner, CEO of AdRoll Group and president of RollWorks. "The customer journey in B2B is incredibly complex. An average B2B deal now requires 6.8 people to sign off before a company makes a purchase. Trying to connect with each of those stakeholders in a way that resonates is a significant undertaking. The capabilities the Growlabs team brings will enable us to provide richer data and actionable insights to our B2B customers, accelerating their revenue growth."
Beyond data integration, the Growlabs acquisition will also enable RollWorks to offer multi-channel engagement, including the ability to use targeted lead information to find buyers that display high fit and high intent. Users will also gain the ability to activate ads and sales automation sequences in coordinated ABM campaigns. Once these capabilities are integrated, customers will be able to run multi-channel campaigns with messages automatically sequenced and synched with sales stages.
"Our mission has always been to help marketers grow fast – a mission we share with AdRoll Group," said Be Raffi, CEO of Growlabs. "Together, we'll accelerate marketers' ability to drive revenue. The data and multi-channel capabilities we can offer B2B customers with RollWorks today, and in new product development going forward, will be a game changer for B2B marketers."
Source: Mobile Marketing Magazine