AdColony, the largest independent mobile advertising platform in the world, released industry-leading results for its Instant-Play HD Vertical Video launch campaigns for brands across top mobile apps. Advertisers and their respective campaigns include UFC for UFC 207: Nunes vs. Rousey, a premium cable television network, a global consumer tech and entertainment platform and other Fortune 500 brands.
With an 89 percent average video completion rate and 10 percent average engagement rate, AdColony's initial vertical video campaigns have outperformed marketers' expectations for this emerging format. Powered by AdColony's Instant-Play HD mobile video technology, brands now have access to vertical video inventory at massive scale across Today's Primetime mobile inventory, which includes the most popular apps in the world.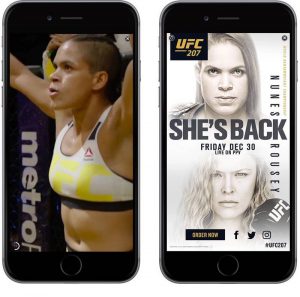 Vertical video campaign highlights include:
UFC for UFC 207: Nunes vs. Rousey: The vertical video ad had a 90% video completion rate to meet the goal of driving awareness of UFC 207 athletes Amanda Nunes and Ronda Rousey and clicks to order the fight on Pay-Per-View.
Premium cable television show premiere: With the goal of generating awareness of the new show and driving tune-in to the premiere date, time-spent with the highly engaging Dynamic End Card after viewing the video was upwards of 12 seconds per user.
Consumer tech/entertainment product release: To increase purchase intent and online ordering for the release of its newest product, the brand's vertical video campaign and innovative, responsive Dynamic End Card drove a 13.47% engagement rate.
Unlocking inventory across in-demand mobile apps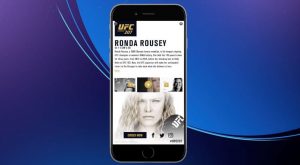 Vertical video from AdColony is activated across a diverse array of the hottest apps in the world, where consumers spend more than 57 percent of their time. With access to SDK-enabled interactivity not possible elsewhere, brands have the ability to connect with consumers in a variety of apps beyond social, a category in which vertical video spending has been concentrated to-date but with limited results. Just a few of the apps enabling Vertical Video Instant-Play campaigns for their users via AdColony's 3.0 series SDK include MyNBA2K17, Trending.FM and WWE SuperCard.
"We were excited to partner with AdColony to activate our vertical video creative to reach our audience across their individual mobile lifestyle," UFC Content Marketing Manager Kristen Bankosz said. "AdColony allowed us to align with a wide range of our viewers' passion points and drastically increase our overall reach and frequency. We were eager to test the interactivity of Dynamic End Cards in the vertical format and are thrilled with the results."
Driving outcomes with vertical Dynamic End Cards

Unlike other vertical ad units in the market that don't have meaningful ways to engage, AdColony's vertical video provides fully immersive Dynamic End Cards that offer ways for consumers to swipe, tap, watch, purchase and otherwise engage more fully with entertaining, rich brand experiences.
Powered by the next-generation SDK from AdColony, the creative possibilities to develop vertical video with engaging end cards are unleashed with even higher quality graphics, animations and interactions. AdColony's award-winning creative team has honed in on best practices to deliver beautiful, impactful Dynamic End Cards that complement vertical video content to drive results.
"As video viewing on mobile continues to grow, so does the demand for vertical video that fills the full screen of a device and captures consumers' attention," said Mike Owen, CRO, Global Brand at AdColony. "Our take on vertical video — a format as organic and inviting as video shared from a friend — opens the doors to a new way of thinking about creativity that relates directly to the consumer. The results speak for themselves."
Source: AdColony