Audio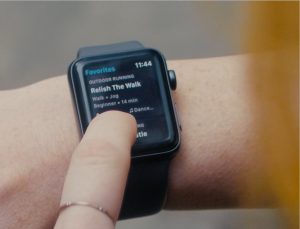 fitness app Aaptiv has announced an Apple Watch integration. Aaptiv provides unlimited access to more than 2,500 audio-based fitness classes, programs, and challenges created by expert trainers.
The app has garnered more than 200,000 paying members over the past two and a half years. Subscription to the app costs $14.99 (£11.99) a month on a monthly recurring basis or $8.33 for anyone who commits to a year's membership.
The company said the Apple Watch integration makes perfect sense as it enables users to access the app and the workouts using just the watch, with no need to have their phone in tow.
Once Aaptiv is installed on a user's Apple watch, when they first open the app, it will ask them to sync with the Aaptiv iPhone app. That initial sync will automatically trigger a pull of the list of workouts they have saved to the Favorites list in the iPhone. That list will become available to the user on their Apple Watch.
After the initial sync is complete, the user no longer needs their phone with them to use app on the Watch app. In addition, going forward, whenever they make updates to your Favourites list on the Aaptiv app on your phone, the Apple Watch will know and sync to match those updates, even if their phone is not around when the next use the Apple Watch app.
In order to play any of the workouts from the Watch, they need to be downloaded to the watch. To do that, the user selects one of the workouts on their Apple Watch and taps the Download button. Once the workout has successfully downloaded, they can access it at any time.
Source: Mobile Marketing Magazine