Hong Kong-based travel company Gagfare has released a new smartphone app which will revolutionise the way tech-savvy travellers book flights.
For the first time ever, Gagfare enables travellers to search flights with over 500 airlines globally, and secure a confirmed, impartial best airfare on their desired flight, instantly. With a unique book-now-pay-later solution, Gagfare allows travellers to pay only US$10 to secure up to 9 seats, well in advance, on their desired flight. Travellers don't have to pay the rest of the fare until closer to their travel date.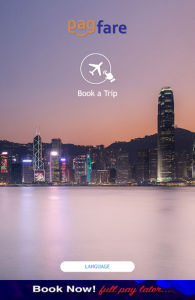 "We created Gagfare because we know what customers want," says David Leung, travel industry veteran and founder of Gagfare. "Our mission is to let customers 'get a good fare', hence the name. Gagfare taps into multiple global distribution systems specifically for flight reservations, enables customers to search and book their flights directly through in airlines' own systems. This gives travellers access to promotional deals they may never encounter anywhere else online. This ensures that Gagfare offers you the best airfare, on any given travel day, on any given flight, on any of the world's leading 500 airlines."
With a simple user-friendly interface, Gagfare enables customers instant access to hundreds of thousands of flights around the world. Customers can choose favourite airlines or search alternative routes; book multiple-stop itineraries; and check their bookings through official airline websites by using their Gagfare booking references number. Search for flights, input passengers details as printed on the passport, confirm the booking with the US$10 PayPal payment, and secure the best seats on the best flights instantly. A reminder email will be automatically sent by the system when it is time to pay the remaining fare and issue the ticket. The book now, pay later solution may not be available for some time-sensitive promotional fares.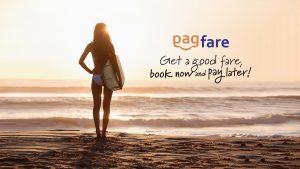 Travellers using existing travel booking sites are spending lots of time searching for flights and paying premium fares. When travellers search for flights, browsers become swamped with pop-ups and partner sites, and often by the time travellers go to lock in their seats, the fares they originally found are no longer available. "Travellers don't realize the complexities behind the scenes of flight search tools," says David. "Travel booking websites use historical pricing data to try to predict fares to the destinations based on season and day of travel. But past performance is no guarantee of real booking."
"Leisure travellers may be enticed to make an impulsive flight purchase if the fare is good," says David, "one of the great things about Gagfare is that you're protected; you're able to secure your favourite flights and fare, for you and your family, for just US$10. This means travellers can make their travel plans well in advance, and if something comes up and they need to cancel the itinerary, all it costs is the price of two cups of coffee."
Source: Gagfare