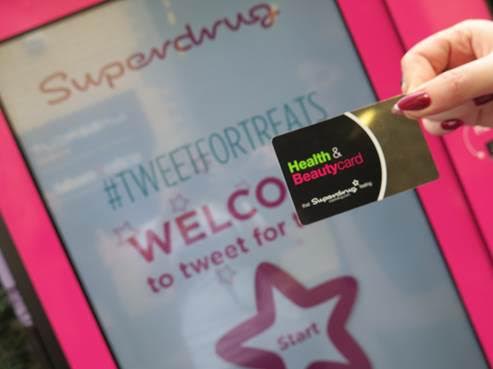 Superdrug has launched a '#TweetforTreats' campaign, which will see the retailer touring England throughout June with a Twitter-activated smart vending machine.
The vending machine is activated by swiping a loyalty card and then tweeting using the '#TweetForTreats' hashtag. In exchange, customers will receive a free product from Superdrug's own-brand line.
The campaign is intended to drive new sign-ups to the loyalty scheme, as well as encouraging shoppers to sample own-brand products.
"This is a completely new concept for us so we're really excited about its launch and are certain our customers will be too," said Gemma Mason, head of customer experience at Superdrug. "We're thrilled to be able to offer our customers a bonus while they're doing their regular shop at Superdrug. The interactive vending machine will not only enhance our shoppers' experience, but also give them a taster of the wide variety of health and beauty products available within the Superdrug own-brand range."
Starting tomorrow, the campaign will tour cities from London to Sheffield on Wednesday/Thursdays and Saturday/Sundays for the rest of the month.
Source: Mobile Marketing Magazine