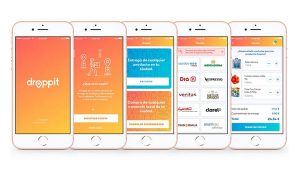 Spanish automaker Seat has linked up with Saba, a developer of urban mobility solutions and parking management specialist, to create an app that enables users to have shopping delivered directly to their parked car.
With Droppit, available on both iOS and Android, users are able to place a shopping order at a virtual supermarket and have it delivered to their car while it is parked in a Saba car park. A six-month pilot will take place at two Saba car parks in the city of Barcelona with virtual supermarket Deliberry and courier company Glovo onboard to provide the service.
Through the app, customers request a delivery from either Deliberry or Glovo. They then leave their car keys with Saba staff, who will accompany the delivery person to the vehicle and place the order inside. In future, Seat and Saba aim to make the process safer by enabling service providers to access cars using their fingerprints through the app.
"Solutions such as Droppit offer a valuable, personalised experience. With this kind of initiative, Seat seeks to further its commitment to car-related digitisation," said Arantxa Alonso, business development officer at Seat. "Integrating two partners as dynamic and specialised as Glovo and Deliberry in this project certainly demonstrates the future potential of the agreement between Seat and Saba."
Source: Mobile Marketing Magazine