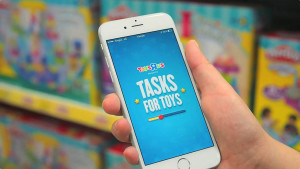 Ogilvy & Mather Singapore and Toys "R" Us has launched a one-of-a-kind mobile app that makes it fun and easy for kids to earn their most coveted toys after completing tasks or chores set by their parents or guardians. The app, named "Tasks for Toys", was recently launched to solidify the brand's position as the "Authority in Toys" and to drive purchase in its online store.
With plans to run indefinitely, the app is aimed at modern parents who are digitally savvy and spend huge amounts of time on social media and on their phones, with most purchases made while on the go. The central function of the app is to help parents educate their kids between the ages of 6 and 15, through a holistic experience, using a range of Toys "R" Us products available on the app.
Melvyn Lim, Executive Creative Director, OgilvyOne Singapore, said, "We know that when it comes to parenting, educating children and getting them to do their chores can be tough work. In creating this first-ever app, our goal was to integrate education and fun to make even the most dreaded tasks rewarding and fulfilling for kids."
Within the first week of the app's launch, it had been downloaded more than 5,000 times on the Apple and Google Play stores, with thousands of kids in Singapore earning close to half a million app points. Sales volume on the Toys "R" Us online store increased by 27%, with a spike in sales during the non peak period outside of school holidays.
Jennifer Tan, Country Manager, Toys "R" Us Singapore, said, "Tasks for Toys is not just another marketing tool, but a sustainable platform that delivers practical value to our customers while ensuring a constant stream of visits to our online store. We are thrilled to be the first toy store of such scale to create a mobile app for parents to help their children learn and contribute to household tasks."
"Tasks for Toys" was launched alongside the new Toys "R" Us interactive concept store at Paragon shopping centre in Singapore, to complement other digital experiences that the brand offers. Social and traditional media, store displays and EDMs were also used to drive consumers to download the app for IOS and Android.
Source: Campaign Brief