The start of the O2's 10th birthday celebrations saw the arrival of three special cakes – a Ginger Br-Ed Sheeran, a Praline Dion and a JAM-iroquai – as their real-life counterparts embark on a series of special gigs at the venue.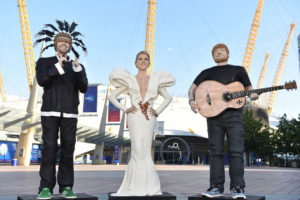 O2 commissioned famed food artist Lara Mason to create the life-size confectionary statues of Ed Sheeran, Celine Dion and Jamiroquai. The completely edible extravaganzas were made with 400 eggs, four and a half stone of butter and 23kg caster sugar and flour.  The cakes, which took 500 man hours to finish, weigh more than 15 stone each and have heads sculpted entirely out of white chocolate.
The stunningly lifelike selfie-ready 'statues' were delivered to The O2 to launch a series of unique shows by the real artists, celebrating 10 years of the world renowned venue. Fans unable to capture that special moment with Ed, Celine or Jay Kay in person will be able to do the next best thing, as each of their cake counterparts will be on display on their respective show nights.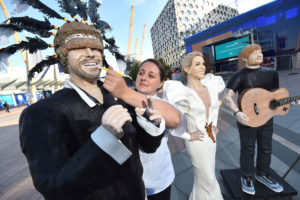 The Ed Sheeran cake is flavoured with ginger and is modelled on one of his 2017 outfits, while Celine Dion is based on her recent white gown that she wore at the Billboard Music Awards – decorated with pieces of praline. Jay Kay has been made of Victoria sponge, layered with strawberry jam – wearing his famous feather headdress.
Fans of the artists were invited down for a first taste of the cakes this morning, with Annie Burton commenting "I've always wanted to meet Ed Sheeran, I'd never dreamt that I'd be offered him on a plate!"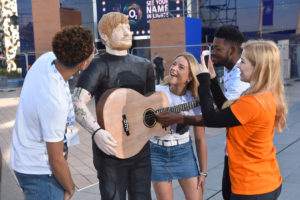 Nina Bibby, CMO at O2 said "You can't have a birthday celebration without cake. So what better way to celebrate this iconic venue turning 10 than creating these fantastic cakes of some of the very artists performing to help us mark the occasion. Over the next week we're turning The O2 into one big birthday party, but you also can't have a party without gifts. So, we're letting our customers and fans in on the gifts too, both at the venue and on social media, as a thank you for all of their support over the past 10 years."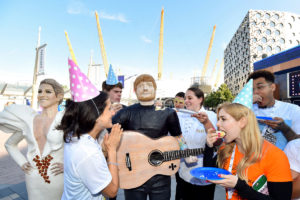 Lara Mason said "I was so excited when I was asked by O2 to create these cakes as it feels like the perfect way to celebrate the birthday. Painting all of Ed's tattoos on his arms was probably my biggest challenge, so hopefully he likes the final look!"
The O2's 10th Birthday shows will take place from 16 – 24 June as part of a special week and a half long celebration, with fans at the very heart. On arrival, visitors will walk the 'blue carpet' to their own personal parade – before seeing their name displayed on a giant screen for their moment in the spotlight.
Finally, fans will have the chance to be led into The O2 Birthday Gift Box – a giant 6mx6m present installation – where they'll have the opportunity to win VIP passes to the best shows of the year as well as many more surprises.
In February 2017, O2 announced a landmark deal with AEG securing it as The O2's naming rights partner for a further ten years.
Source: O2