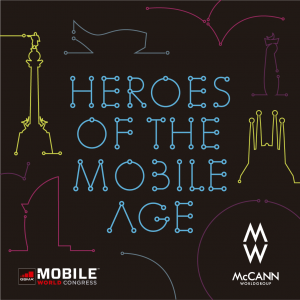 McCann Worldgroup announced its continued partnership with Mobile World Congress for the 7th consecutive year. One of the longest-standing partners of the event, McCann Worldgroup is the only major advertising communications agency network to partner with Mobile World Congress since its inception in 1996.
Under the theme "Mobile: The Next Element", Mobile World Congress 2018 will be held from the 26th February – 1st March in Barcelona, with over 100,000 professionals from across the mobile industry and related industry sectors expected to attend.
McCann Worldgroup's partnership will consist of a number of Tech Safaris and special events for clients and will be hosted by McCann Worldgroup Europe's leadership: Pablo Walker, President with Jon Carney, Chief Digital Officer and Harjot Singh, Chief Strategy Officer.
"We are very proud of our long-standing partnership with the congress, it is the only event to preview the advances in mobile technology, at one time in one place," said Pablo Walker. "Mobile is arguably the most exciting opportunity of our time, with mobile-enabled products and services an inherent part of the daily lives of consumers and businesses. The congress provides the perfect forum for us to explore what it takes to be a success in this era."
"Mobile World Congress is undoubtedly the foremost event for cutting-edge tech trends," said Jon Carney. "We have a fantastic group of guest speakers this year – all of whom are' Heroes of the Mobile Age' in their respective industries – people who dared to do what many others didn't think was possible and therefore help brand-leaders navigate the next phase of the evolution of the Mobile Age  it's going to be fascinating to hear their stories."
Through a series of unique conversations with 'Heroes of the Mobile Age' McCann Worldgroup will be looking at the new mobile ecosystem for brands and consumers, in discussion with many 'outliers'  who have succeeded by creating entirely new business paradigms to survive in a business that runs at breakneck speed. Guest Speakers include global leaders from Amazon, Facebook, L'Oréal, Santander, Tinder and HelloFresh among others.
Source: McCann Worldgroup