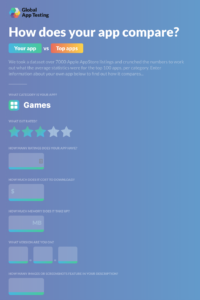 Relying on reviews and going by the photo are often two fall backs to making a decision. Global App Testing have uncovered what it takes to have the most successful app in the app store with speed, visuals and reviews playing a part.
There's an app for that! Apps are at the forefront of our lives, you name it and you can probably find it on the app store, so surely there's some kind of science to how they make them so appealing.
When you look down at your mobile it's more than likely you'll be greeted with the usual social media spread, you'll probably have a few games that crave your attention, it's not uncommon to find a shopping app or two and, can you really get by without your daily entertainment in the form of funny videos, selfie filters and music on your phone?
By analysing 7,200 apps that have been in use over the last 10 years, Global App Testing have been able to bring together data to show you just what 'good' actually looks like when it's paired against the millions of others that are competing for downloads.
So, what characteristics are important to us?
Across all genres, it's a wide feature to be supporting over 36 iOS devices, it's when you look into the different factors like price, star ratings and language that you can see a difference in our preferences.
Free apps will always be one of our favourites but we're actually more likely to pay for an app if it's for Health & Fitness than Productivity. With price, the cheapest genre of app is Shopping with an average cost of $0.02, versus apps in the Medical category of which have an average download cost of $8.78.
Social Networking and Games are the categories which have received the highest volume of ratings with an average of 75,953 and 325,57 ratings respectively for each of the top 100 apps in the categories, whereas Business apps have an average rating of 4,788.
Games and Health & Fitness are the top two categories that have the highest star rating (4.5), with Catalogs and Finance being the two who have received the lowest ratings with an average of 2 and 2.5.
Taking all of the different features into consideration and comparing them across a range of apps, you build up a good picture of what works and what doesn't for your industry. By using this tool developed by Global App Testing, you can get right into the anatomy of the app store and get your personal score to see how your app compares to those already leading the way.
Source: Global App Testing