Innovative technology platform and data consent service set to help the industry move towards trust-based responsible advertising practices, while giving consumers real control and choice over their data.
Equativ, the global leading independent ad platform, today announced its partnership with Utiq — the European AdTech company that delivers a Telco-powered Authentic Consent Service to enable responsible digital marketing.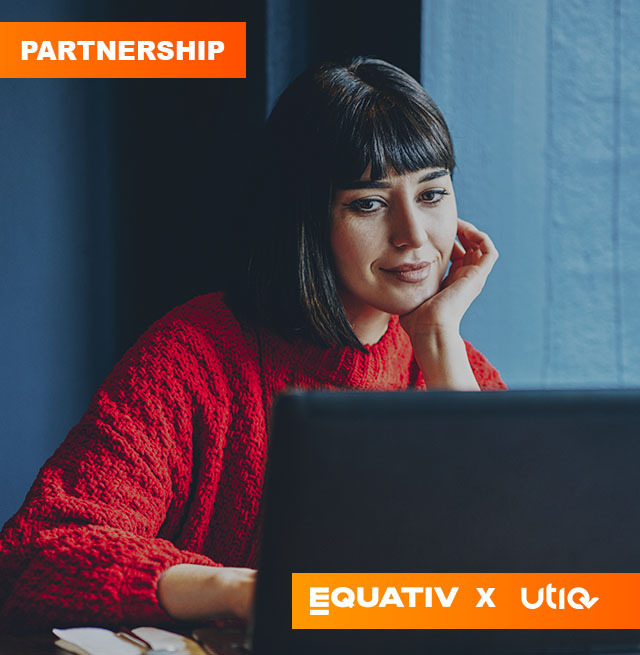 Driven by a shared focus on protecting user privacy, the union combines secure data management with programmatic efficiency: enabling insight-based media monetization and ad personalization. Utiq's Authentic Consent Service gives consumers true choice over their digital privacy while better supporting free and ad-funded services through a more relevant advertising experience. It connects Utiq's Telco partners, publishers and brands via a real-time, end-to-end secure consent signal match.
The partnership responds to the continuing search for a replacement for the third-party cookie that works effectively outside walled gardens, while ensuring responsible data use. With multiple media environments already limiting third-party cookie support ahead of Google's 2024 deprecation deadline, there is an urgent need to harness tracker-free solutions; particularly among brands struggling to gain direct access to authenticated first-party audience data.
Integration with Utiq's service has allowed Equativ to expand on its range of data activation capabilities, including tools that permit publishers and advertisers to enrich first-party audience segments using owned insights and create custom auction packages. Utiq's solution brings the additional option of easily translating clearly consented information into data signals that can be passed along the supply chain, enabling streamlined and secure programmatic trading on all sides.
After making informed choices on their privacy preferences, users have their consented data encrypted. From here, it is sent by Equitiv's supply-side platform to each publisher's preferred demand-side platform. Leveraging unique telco signals in this fashion creates a strong persistent connection that functions across browsers and devices, unlocking greater scalability for advertisers and publishers.
Balancing data usability and security, Equativ and Utiq will strive to provide a cookieless way to continue driving essential targeting, re-targeting, and frequency capping activity, with options available via open programmatic auctions, direct deals, and in private marketplaces.
Key benefits of the partnership include:
Scaled addressability: Media buyers can achieve and assess large cross-environment and device reach, covering cookieless browsers such as FireFox and Safari.
Privacy assurance: passes rooted in consent comply with all data global regulations, keeping users safe, boosting inventory value, improving personalisation.
Reliable data: Exclusive use of data accessed via validated contracts with telco partners cuts fraud risk, while zero audience aggregation prevents contamination.
Increased sustainability: Consolidation of the supply chain to feature fewer high quality partners and enable tighter ad frequency controls curbs carbon emissions.
Commenting on the partnership, Benoit Hucafol, VP Product Management at Equativ, stated: "Upholding addressability is vital to secure the future of the wider and open web. At Equativ, we see improving the availability and diversity of cookie-free solutions as an essential part of that; equipping media owners, brands, agencies, and advertisers with tools they can use to continue serving relevant and responsible ads. By partnering with Utiq and supporting their alternative ID across our advertising chain, we aim to empower privacy-safe marketing and industry-wide change, while facilitating effective monetization and driving our advertisers ROIs through personalized targeting and frequency capping."
Will Harmer, Chief Product Officer at Utiq, said: "Respecting user privacy has been a challenge for the marketing industry, but considerations around non-compliant consent must now be a priority for all concerned. Our mission is based on serving the long-term interests of the entire ecosystem, and integral to this is that people should have the ability to share their data in the way they choose, with full confidence it will be used fairly, whilst receiving free, high-quality content in return. We're delighted to be working with an innovative partner like Equativ that shares this same goal."
Source: Equativ