In a fully integrated campaign targeting the Western European market, Doner London are launching the latest breakthrough technology from Chinese smartphone manufacturer Huawei. The campaign, shot by Rankin, features seven Tomorrow Entrepreneurs, each using the Mate 10 Pro handset, with built-in AI technology, to accelerate their business.
The campaign, the latest in a series of disruptive Huawei brand stories, started with teaser visuals across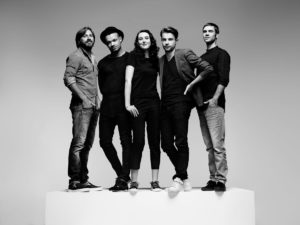 social channels earlier this month with the core message DON'T FOLLOW, LEAD.
The fully integrated campaign targeting the Western European market features content, digital, social, OOH, broadcast and retail channels to present the Tomorrow Entrepreneur's mantra – I AM WHAT I DO. Individually they give us a window into their own lives and share their own personal journey and success story, accelerated by intelligent mobile technology.
As Huawei continues to stand apart from the major competitors in the smartphone category, DON'T FOLLOW, LEAD is the rallying cry to the industry. I AM WHAT I DO targets the Tomorrow Entrepreneur. It celebrates the fact they work differently from previous generations. Their business projects are their lives and have a purpose beyond wealth creation. They are concerned with social issues as much as financial ones – and they carry that thinking through to their business ideas. The campaign messaging aligns with Huawei's brand purpose to 'create a better connected world for everyone'.
The entrepreneurs featured in the campain are:
Samantha Payne -Entrepreneur, Co-Founder, Digital Marketer, Journalist.
Co-Founder of Open Bionics; an award-winning startup developing low-cost bionic hands that look and feel good, for amputees or those born without a hand. Samantha was recently named as one of the top 25 women in robotics, globally.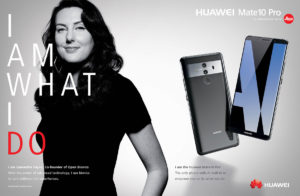 Timothée Boitouzet -French architect, biologist and entrepreneur. Founder & CEO of WOODOO, a multi-award-winning CleanTech startup, Timothée has conceived and patented a new generation of wood materials by fusing nature and technology: a molecularly enhanced translucent wood, extremely performative and durable. He has been name MIT innovator of the year in 2016 and won over 21 awards with Woodoo.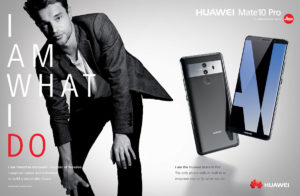 Steve Bartlett- entrepreneur, investor, public speaker, internet personality and the Chief Executive Officer of influencer marketing agency, Social Chain. The 24-year old CEO leads a team of over 100 creatives and works with some of the biggest brands in the world, including Apple, Coca-Cola and Warner. His work has won him the title of UK Digitial Entrepreneur of 2016.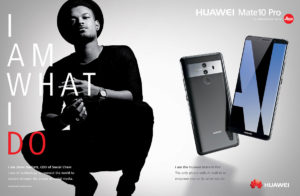 Erez Galonska- Entrepreneur, CEO and Co-Founder InFarm. A start up that wants to end world hunger. Erez says the Berlin based company hopes to one day power vertical farms in offices, restaurants, hotels, supermarkets, and even individual homes. "We envision a future in which cities become self- sufficient in their food production," he says.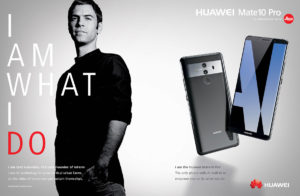 Massimo (Max) Ciociola- entrepreneur, technologist, and social music addict. He's the founder and CEO of Musixmatch, an exciting start up focusing on creating the best experience around song lyrics with over 50 Mln downloads and 30 Mln of active users.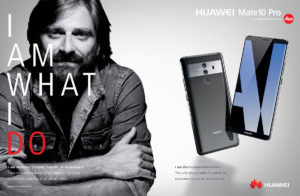 Monica Calicchio. Fashion blogger turned Entrepreneur Monica Calicchio is founder of online fashion retailer TailorItaly. Featuring clothing and designs made by Italian artisans, 100% made in Italy. TailorItaly uses AI to allow customers to instantly design and personalize their own bespoke clothing and have it cut and sewn in classic Italian ateliers.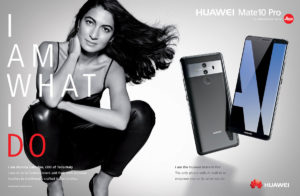 Oliver Bronner, Founder of Hy.am is a digital kingmaker. He runs a business incubator to helps tomorrow's entrepreneurs today, guiding them up the ladder, and helping shape every aspect of their business. He's in the business of unlocking Germany's young entrepreneurs' potential.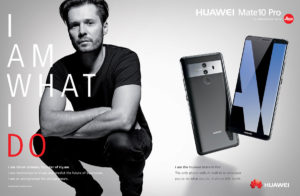 Nick Constantinou, Managing Director, Doner London, commented: "Future generations are increasingly socially conscious and want to drive change in our society. Developing a project of this kind provides the platform for us to showcase truly inspirational entrepreneurs and demonstrate how they are effecting change in our world, all powered by Huawei."
Andrew Garrihy, CMO, Huawei Consumer Group, Western Europe: "Again Doner has delivered a strong creative idea built on genuine audience insights. We are excited to partner our Mate 10 Pro with the Entrepreneur's of Tomorrow to build a better connected world for everyone."
Source: Doner London