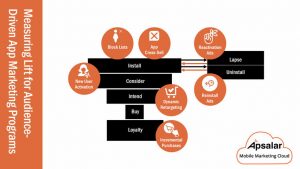 Mobile insights and audiences company, Apsalar, announced the addition of Lift Analytics and Reporting to their popular Mobile Marketing Cloud suite. These enhancements enable marketing leaders to understand the incremental impact of their audience-driven targeting and marketing efforts on revenue and user engagement.
Using Lift Analytics and Reporting, marketers compare the impact of highly-targeted install and post-install marketing campaigns. These programs are tailored to user audience segments built in the Apsalar Mobile Marketing Cloud. By uncovering the additive value of such programs, marketers can assess and refine their marketing mix and demonstrate the business value they are driving. As part of the lift measurement process, Apsalar also employs a multi-touch attribution methodology to understand how different audience-driven campaigns and ad networks contribute to these revenue and engagement gains.
Apsalar Mobile Marketing Cloud is a complete suite of marketing attribution, analytics, segmentation and distribution services. It is designed to make it easy for mobile marketers to deliver custom marketing campaigns tailored to the specific behaviors of discrete user groups. Clients use the segmentation components of the Apsalar Mobile Marketing Cloud to identify high-performing clusters of app users whose in-app behaviors show that they are in specific stages of the sales conversion process.
By adding Lift Analytics and Reporting to its marketing suite, Apsalar has made it easy to understand the impact of a broad range of targeted marketing initiatives including:
Using "block lists" to ensure that app user acquisition (UA) spend does not get wasted reaching existing app users.
Getting users of one of a brand's apps to install another brand app via targeted UA programs.
Stimulating lapsed app users to return and engage.
Encouraging first-time users to return to the app often and make their first purchases.
Driving uninstallers to reinstall brand apps.
Dynamically retargeting cart abandoners to encourage them to return and finish their in-app purchases.
Influencing past buyers to make incremental purchases.
Metrics include reach, revenue, reactivations (relaunches), daily active users, average revenue per user, uninstall and reinstall rates, and more. These different views help marketers gain a superior understanding of their consumers, and assess the material impacts of their marketing strategy. Marketers can also use the the new reporting framework as a BI tool to analyze any audience on these multiple dimensions.
"Data-driven marketing is transforming the entire mobile industry," said Michael Oiknine, cofounder and CEO of Apsalar. "As marketers focus less on mass marketing initiatives and more on unlocking the power of their first-party user data, our new Lift Analytics and Reporting demonstrate the incremental business value that marketers are bringing to their companies."
Source: Apsalar