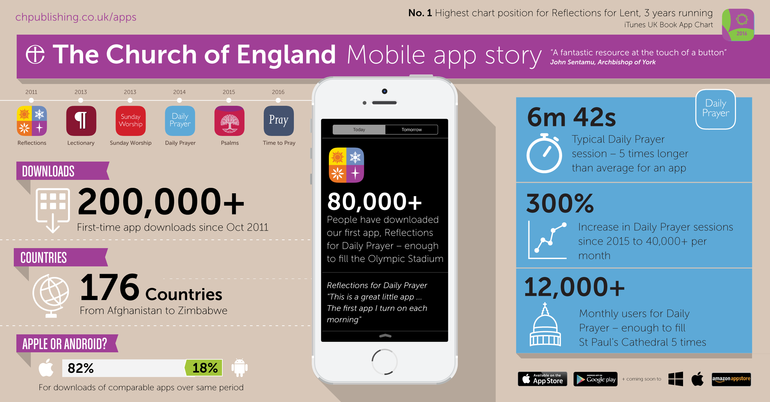 Apps available on mobile devices are now a normal part of Christian life, the Church of England has said as it plans to extend its' own range of programmes for tablets and smartphones.
The institution reports its' range of apps, which try to support believers in things like Bible reading and prayer, have received more than 200,000 first-time downloads.
It is believed 12,500 people are now using the Daily Prayer app, which represents a 300% rise between May 2015 and May 2016.
Thomas Allain-Chapman, Publishing Manager at Church House Publishing (CHP) – the official publisher for the Church of England – said: "Apps like Reflections and Lectionary have moved from being novelties to being normal for our users.
He added: "Their great appeal lies in allowing instant, fuss-free access to resources for prayer and Bible study worship wherever you are."
Speaking about his use of a Christian app, the Bishop of Leicester, the Rt Revd Martyn Snow, said: "I use it at home, in my chapel for daily prayers and with my Staff Team at the start of meetings.
"It's great that these apps are so easy for people to find and use as part of their discipleship."
The Church of England says plans include developing Windows and Amazon Kindle versions of all its apps and a desktop version of Lectionary app.
Source: Premier