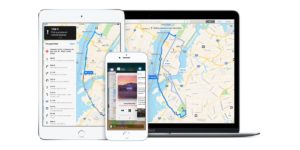 Apple has announced plans to rebuild its Maps app, starting from scratch using its own dataset, although it will still use satellite navigation firm TomTom as a data provider initially. The app, which is the most frequently used on iPhones, has a rocky history, with a number of notably criticised versions in the past.
The new version of the app will being rolling out in Q3 this year, with new maps of Northern California, and will expand from there, with the rest of the US being upgraded region-by-region "over the next year".
In order to generate its own dataset, Apple is using a fleet of specially-designed vans which have already been collecting GPS and Lidar data, typically associated with self-driving cars, for the past few years. While no timescale for an international rollout has been revealed, at least one of the vans has been spotted operating in the UK.
The data gathered by the vans will be augmented with information from iPhones, although Apple has promised a "privacy-first methodology" when it comes to this data gathering. Satellite imagery will also be used to improve accuracy, and Apple is hoping that by combining all three approaches, it can eliminate the need for third-party services, some of which have been blamed for issues Apple Maps has had with reliability and accuracy in the past.
"Since we introduced this six years ago – we won't rehash all the issues we've had when we introduced it – we've done a huge investment in getting the map up to par," said Eddy Cue, senior vice president of internet software and services at Apple, in an interview with TechCrunch.
"When we launched, a lot of it was all about directions and getting to a certain place. Finding the place and getting directions to that place. We've done a huge investment of making millions of changes, adding millions of locations, updating the map and changing the map more frequently. All of those things over the past six years. We wanted to take this to the next level. We have been working on trying to create what we hope is going to be the best map app in the world, taking it to the next step. That is building all of our own map data from the ground up."
The release of Maps in September 2012 was plagued with missing data and unreliable directions, and the app was received so poorly that Tim Cook had to write a letter of apology to customers. While the company has made considerable improvements to the app since then, the reputation has stuck, and it is often considered inferior to rival services like Google Maps or Waze.
Source: Mobile Marketing Magazine