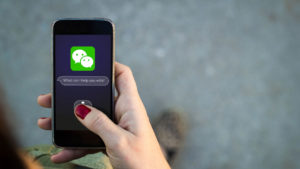 Chinese social media and gaming behemoth Tencent Holdings is set to introduce a voice-activated assistant for WeChat, offering greater convenience to users of the messaging service in tasks such as playing music, ordering food and hailing a ride.
Citing comments made by WeChat executive Zhou Jie during a company event, Bloomberg reports that the new digital assistant, dubbed Xiaowei, will link to Tencent's other service apps such as QQ music, as well as lite-apps run by third parties like on-demand delivery service Meituan Dianping, bike-sharing service Mobike, and ride-hailing platform Didi Chuxing.
While Tencent has been selling smart speakers, this will mark the first time the company plans to integrate a voice assistant into its super-app WeChat, the dominating social media network in China. The internet giant did not provide an exact launch date or timeline for Xiaowei.
Tencent's voice assistant plans do not end with the retail user areas. Xiaowei can reportedly also work on devices ranging from voice-operated smart speakers to autonomous vehicles.
Following the boom of voice-activated digital assistants in the United States, driven by Amazon's Alexa and Apple's Siri, Chinese tech firms such as Alibaba, Xiaomi, Huawei and Baidu have rolled out voice-activated tech in a wide range of appliances and devices.
According to Canalys figures, Alibaba and Xiaomi, leveraging on their online retailing business, controlled over 70 percent of smart speaker sales in China in 2018.
Tencent's decision to release its own voice assistant for WeChat is expected to be a game-changing force in the voice assistant field in China, considering voice messaging is widely used on Tencent's WeChat platform.
According to the company, 6.1 billion voice messages went sent daily via WeChat in 2017, with the tool particularly popular among senior users.
Tencent first unveiled Xiaowei in June 2017. In an interview with Tech in Asia earlier, a company official said the group's edge in artificial intelligence and voice assistant space lies in its access of the huge pool of user and enterprise data, via the firm's various social media, music, news and video platforms.
Other than answering users' questions about the weather and traffic updates just like Alexa, the company said that it planned to add more AI capabilities to Xiaowei, such as facial recognition, multilingual translation, and object detection.
According to the report, Xiaowei would be positioned as the artificial intelligence backend platform powering and being integrated into applications developed by third-party businesses and developers, while voice input from end users will be channeled to its cloud computing arm Tencent Cloud.
Meanwhile, in the latest report, Bloomberg said that the Shenzhen-based tech giant pledged to accelerate monetization of advertising on its 'mini-program', or the mini mobile applications run by third parties that are built into the WeChat platform, while unlocking opportunities for developers to earn money from their mini-programs.
Last November, Tencent announced it has rolled out 1 million "mini-programs" since the launch in January 2017, covering various activities including gaming, ride-hailing, online shopping, paying bills, among others, as the company is creating an ecosystem of mini-apps with over 1 billion active users.
With the fast-growing number of 'mini-programs', analysts believe WeChat would be able to challenge Apple's iOS and Google's Android app ecosystems in a key market, bringing in more business opportunities.
Moreover, eyeing the growth in industrial and commercial uses of the internet, Tencent is offering facial recognition technology and customer management services to retailers, with an aim of serving more enterprises and industries.
Source: ejinsight