Samsung is set to join the Olympics. No, it won't send its own team but expect the tech giant to be one of the biggest sponsors in Brazil at the 2016 Summer Olympics. We know that the South Korean tech company is working on a special Olympic Edition of the Galaxy S7 edge but there's no formal announcement yet. What we have is this teaser posted on Samsung's Deutschland website that tells us to "Ge7 Ready".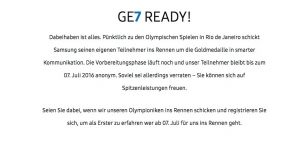 An image was leaked last week and now this note plus a teaser video posted on the Facebook page of Samsung Mobile Deutschland. We're not sure why Germany but we're just glad the new S7 edge commemorative edition is arriving soon.
We have a feeling there's gonna be a lot of dancing and festivities once Samsung officially launches the Galaxy S7 edge Olympic Edition. We're expecting this limited edition variant will be announced before the Galaxy Note 7 and Note 7 edge roll out. Note that this isn't the first time Samsung is going big for the Olympics. The old Samsung Galaxy S III was named the official 2012 London Olympics phone a few years ago.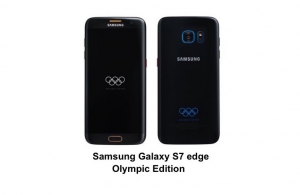 The teaser hints on a July 7 launch. If true, it will be a 7-7-7—be S7 edge on July 7. Perfect.
There's no word on pricing and exact and availability and in which countries but we're crossing our fingers it will be ready for purchase right then and there in Rio de Janeiro and even before the opening ceremony on August 5. What better way to complete the Olympic experience and capture all the memories than with a new S7 edge?
There's also the idea that those who will buy the special edition smartphone will have exclusive privilege to watch the Olympics in virtual reality. Now that's something those of us who can't (and won't) fly to Brazil will be happy about. Olympics in VR? It's about time.
Source: Android Community